PASA Belize Ltd cleans up spilled garbage
Saturday, April 30th, 2016
In Volume 26 Issue #15 of The San Pedro Sun, an article titled "Container Full of Garbage Tips Over!" detailed how a large shipping container filled with garbage reportedly turned over near the San Pedro Solid Waste Transfer Station on Southern Ambergris Caye.
The huge pile of garbage that spilled into the mangrove and water areas next to the road sat unattended for over a week. The local municipal authorities from The San Pedro Town Council (SPTC) and Hol Chan Marine Reserve were made aware of the situation.
They committed to address the situation but the adequate attention to the issue never came from either organization. The Belize Solid Waste Management Authority (BSWM) in Belmopan City was then notified, and they quickly passed on the message to PASA Belize Ltd (a Mexican Waste Management Company), owner of the flipped container, who immediately addressed the issue.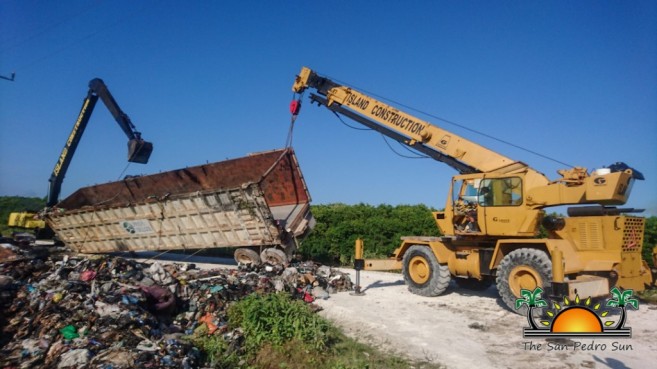 Reynaldo Hernandez, PASA's Manager, visited Ambergris Caye after the incident to ensure certain mechanisms were in place to avoid a similar incident. During his visit, he spoke with The San Pedro Sun about the issue and what they are doing to be more effective in the future. "We have come up with a backup plan in order to respond more efficiently in the future," said Hernandez. "The plan is to bring additional equipment from the mainland to have readily available if similar events like this occur. This will speed our response to any accidents that involve the threat of solid waste materials." He added that the plan of action is in its development stage and once complete, the local municipal authorities will be notified about it. It is expected that the idea will also allow the involvement of local authorities in working together with PASA to assist them whenever it may be necessary.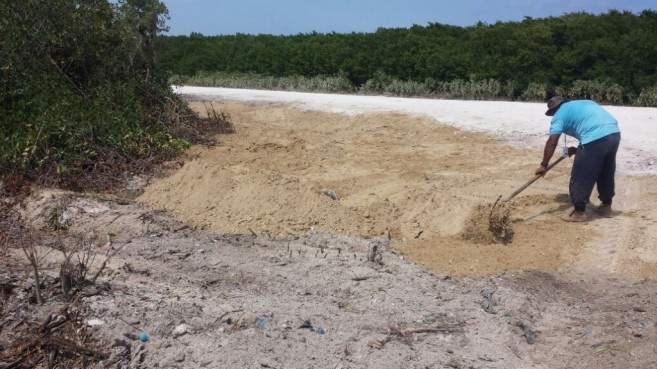 An assessment report from the Department of the Environment is to yet be released. The report should confirm if there was any environmental impact on the water ways and mangroves that line the road. Currently PASA is the firm in charge of the operation of the transfer station in Ambergris Caye, which barges the garbage from the island to the sanitary landfill on the mainland. BSWM not only has the responsibility to ensure that PASA complies with all operations of the transfer station, but with the environmental compliance plan as well.
BSWM would like to once again remind the general public that for any similar situations, or to learn more about their operations, they can be contacted at 822-0711 or 802-1527 or via email at [email protected]
Follow The San Pedro Sun News on Twitter, become a fan on Facebook. Stay updated via RSS