Massive casino-hotel development proposed in Laguna de Cayo Frances area
Wednesday, November 9th, 2016
Caribbean Developers Belize Limited is proposing to create a diversified residential, commercial amenity-based tourism development project on 3,000 acres of land, which is approximately 13 miles north of San Pedro Town. The development site itself is situated centrally on Ambergris Caye, forming a land bridge between Laguna de Cayo Frances and Santa Cruz Lagoon, the latter of which falls within the Bacalar Chico Marine Reserve. The announcement of the project's preliminary public consultation scheduled for November 16th, has revealed a first look into the proposed development. Some of the key elements of this $100US million dollar project to be completed in three phases, will consist of multi-family and single family residence sites; 10 casino hotels; an 18-hole 190-acre golf course with single family golf residences; restaurants and bars; pools; piers with slips, overwater villas; a beach club condominium-hotel and a free zone.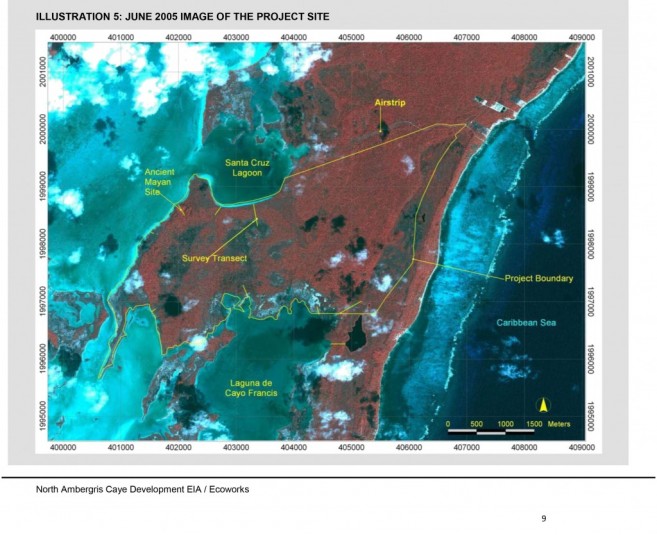 The overall planning concept was developed by a United States-based land planning firm, which has been modified to accommodate the key findings of the Environmental Impact Assessment (EIA) by Ecoworks. In order to afford the developer maximum flexibility during the operation, the overall design plan follows an approach that uses distinct sections of the land for select development components.
The construction project will be divided into three phases, and is set to be completed over a period of 10 to 20 years. The development is designed to be equipped with 12 hotel complexes spanning 375 acres and offering 6,100 suites; 302 multi-family complexes spanning 430 acres and offering a total of 1,210 units; 835 single family residences spanning 965 acres; 20 over-water villas spanning 30 acres; 400 beach club condominium units on 20 acres of Caribbean beach front; as well as a transit pier on five acres, and a free zone established on 140 acres; for a total of 8,565 suits, units and residences, to be established on 2,110 acres. The amenities include: boating facilities; spa and fitness clubs, and a golf course.
The first phase is estimated to have a construction time frame of three to four years. The proposal in the EIA states that approximately eight components will be constructed: primarily a dockyard, lagoon hotel and two casino hotels of 250 keys each, three multi-family residence sites (including a staff residence site) of 400 keys each, a single family residential block of 100 keys each, and a free zone development site.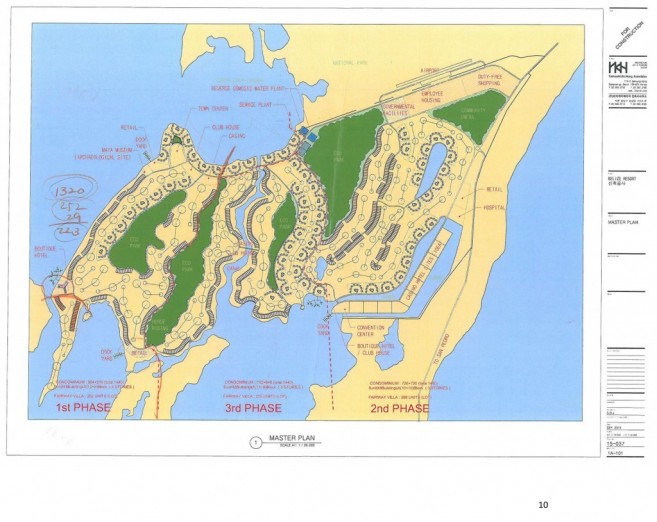 In the second phase of development, the construction will geared at building two casino hotels of 250 keys each, and the single family golf residences of 400 keys each. This is projected to take a total of three years. Within the final phase of this development, five components will be constructed, which include a boutique hotel of 100 keys each, 2 family residential blocks of 335 keys, combined; 20-key overwater villas; and a beach club condominium-hotel of 400 keys.
According to the EIA, the development site estimated to have a total human capacity of 1,500 staff and 15,732 guests. The development footprint will consist of approximately 62% of the entire 3,000 acres site planned for placement of the project, including 127 acres (4.2%) of vertical construction (i.e. condominiums, free zone, bar and restaurant hotels, gas station, etc.), and 297 acres (9.9%) for carriage way alignments for a total of approximately 424 acres of total land area as development space. However, the EIA states that a significant portion of the property is being set aside as 'green space'.
Before this development commences, a preliminary public forum will be hosted by Belize Environmental Technologies (BET) to consult the public on the "North Ambergris Caye Proposed Development Project Caribbean Developers (Belize) Limited" on Wednesday, November 16th. The consultation will take place at the Lions Den from 6PM to 8PM, and BET will provide factual information about the proposed development project.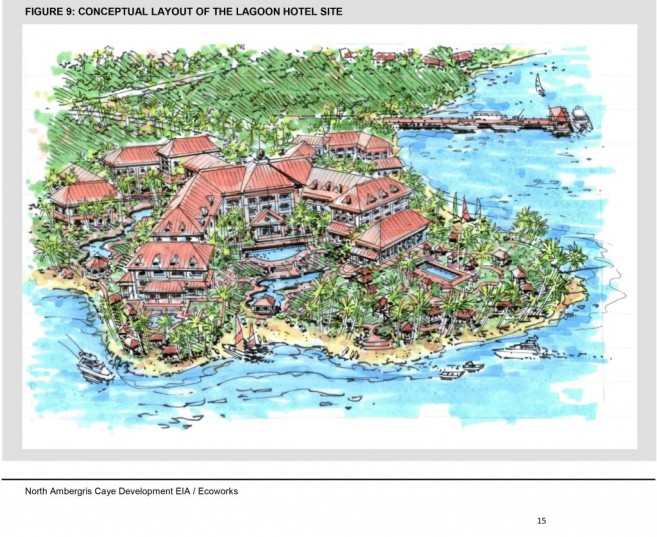 By attending this forum, the community will be able to better understand the key issues that should be considered during the EIA update process, discuss the more significant environmental and socio-economic aspects of the proposed development project, present on the EIA standards and the way forward for updating of the 2009 EIA studies, and hear and document concerns and offer clarifications as required.
The Department of Environment (DOE) has confirmed that this is a legitimate development headed by Caribbean Developers (Belize) Ltd. According to DOE, the project is still in the process of finalizing their EIA as no official document has been submitted as yet. DOE is working along with Caribbean Developers in this process and expect to have a submitted EIA by next year. Once the EIA is submitted, mandatory Public Consultations led by the DOE will be held as part of the approval process. Any questions and concerns about the legitimacy of this project can be directed to the DOE at 822-2548/2819.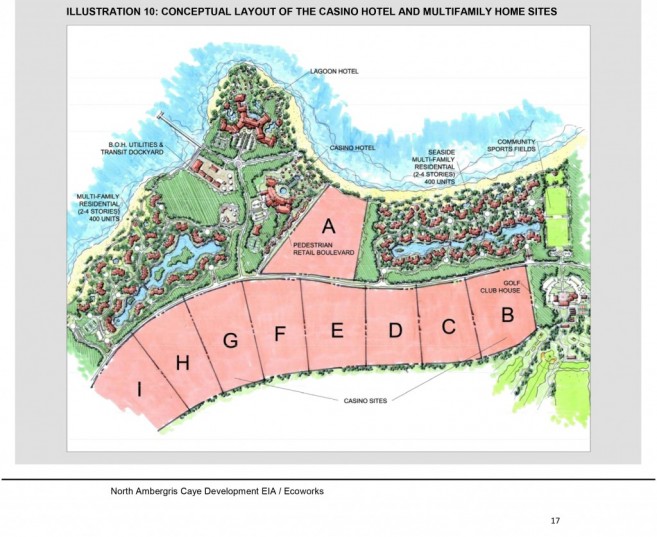 In December 2007, The San Pedro Sun documented the controversy that sparked after this 3,000 acre land was sold to Caribbean Developers (Belize) Limited for BZ$12 million. After knowing this land was going to be developed into a tourism-related project, many tourism stakeholders protested against it, and stated the land was originally designated for the Belizean public, and not for private investors.
Nearly two years later, Amandala picked up the article, and published that Caribbean Developers (Belize) Ltd. mortgaged the 3,000 acres as collateral to the Industrial Bank of Korea for a US$13,720,000 loan on December 28, 2007.

However, in January 2009, the law firm of Barrow and Williams issued two-month notice for the same Korean bank, advising that the bank intended to foreclose and sell off the 3,000 acres on North Ambergris Caye. Amandala also found that in September 2009, the 3,000 acres was advertised 'For Sale' by Looey Tremblay, a Canadian real estate agent who operates a RE/MAX franchise in Belize. The property was listed for US$13 million.
As of late, Sancas Realty Ltd. Christie's International Real Estate, listed the 3,000 acre land for sale for $15,000,000. According Gil Castillo, President of Sancas Realty, "This property has been in receivership since 2009. Our firm has the exclusive listing, and it is under contract for closing in January, with an accepted offer by the receiver."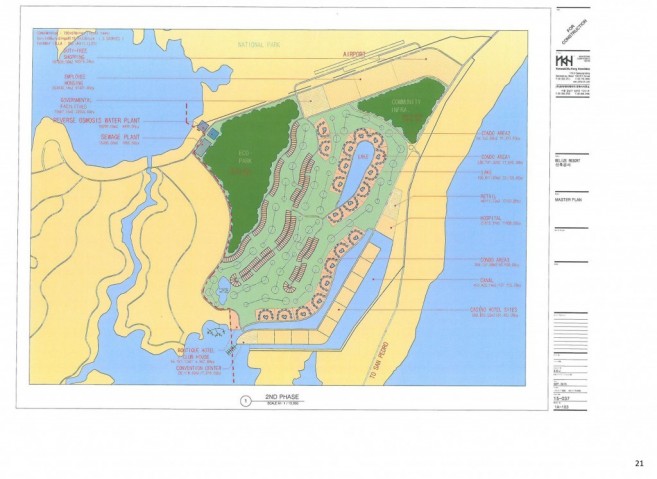 Barrow & Williams are acting as the receiver and have title to the land. Managing Partner Rodwell Williams says the land is yet to be sold and Caribbean Developers is in the right to proceed with their project. "I have listed the property with them [Christie's] for sale, but there is no sale for the property," said Williams. According to Williams there is no sale contract to his knowledge. "Caribbean Developers holding their consultation has nothing to do with the receivership. We are aware of what Caribbean Developers is doing, for years they have been trying to develop the property and they are still trying. We don't know if they will succeed in the development, but we as the receivership are just perusing the sale of the property. The Industrial Bank of Korea is the mortgagee, Barrow and Williams is the receiver, and until there is a sale, Caribbean Developers are the owners of the property," said Williams.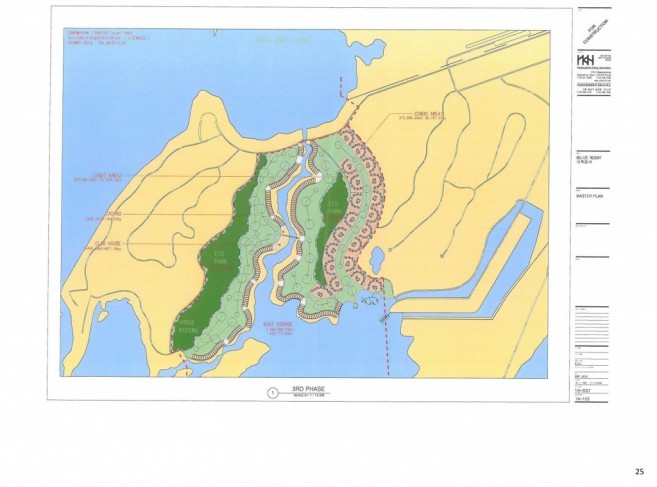 For further information on the project, you may contact Ismael Fabro, Managing Director BET at 223-1819/607-1957 or send an email at [email protected]. A copy of the "Summary Development Project Document", can be viewed at: drive.google.com/file/d/0B9rqXlUnnRFkNExmd1VoTmVKd00/view?usp=sharing
Follow The San Pedro Sun News on Twitter, become a fan on Facebook. Stay updated via RSS