GOB affirms commitment against offshore oil exploration
Friday, September 1st, 2017
On August 18, 2017, Belize Prime Minister, Right Honorable Dean Barrow officially announced his administration's commitment to legislate an indefinite moratorium on offshore oil exploration in Belize's territorial sea, including its exclusive economic zone. Many Belizeans throughout the country, along with different organization like The Belize Coalition to Save Our Natural Hertiage and Oceana in Belize, welcomed the decision taken by PM Barrow.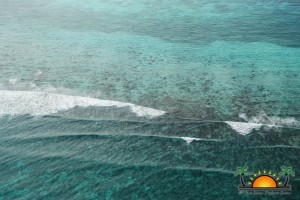 "This is the consequence of conversations with Oceana and The Belize Coalition to save our Natural Resources," said Barrow, as he explained the decision. "The Cabinet felt that the time has come to put a policy commitment into writing. It makes no practical difference, since under either regime, there is not going to be any licenses granted for offshore oil exploration activities. I certainly believe it gives comfort to those who required it, that this is a step beyond just the policy commitment." In response to a request by the Coalition, the Prime Minister has agreed that a draft bill will be provided to the Coalition in advance, to allow time for comment and review, prior to its presentation in the House of Representatives in October 2017. The Prime Minister further committed to ensuring that the moratorium is fully legislated by November of this year.
Vice president of Oceana in Belize Janelle Chanona is pleased with this latest development. "The announced intention of the Government of Belize gives us hope that one day very soon, this invaluable marine asset will be safeguarded from the inherent and permanent threats of offshore oil. We thank them for that."
Many Belizeans can now say that their voices have been heard, as they have been advocating for the Government of Belize to take legislative action and formally cancel offshore exploration activity in Belize since 2011.
Follow The San Pedro Sun News on Twitter, become a fan on Facebook. Stay updated via RSS