Dredging in Caye Caulker Concerns Citizens
Friday, October 20th, 2017
At the beginning of this month, the San Pedro Belize Water Taxi in Caye Caulker began dredging an area next to their docking pier. Many residents of the island are concerned that this activity will have a negative impact on the surrounding ecosystem, especially to the Barrier Reef which is less than a mile east of the island.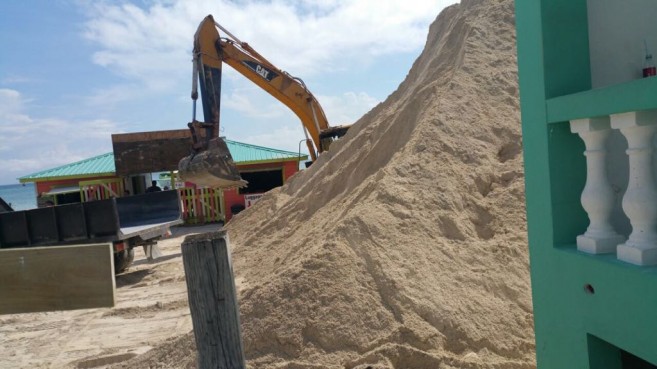 San Pedro Belize Water Taxi started the dredging project after they claimed to be experiencing various challenges, such as too shallow water causing the boat propellers to continuously break. Apparently, they requested a permit to start the dredging, which was granted to them by the Geology Department after they studied the problem. A permit was granted with the condition that the community would benefit from the material (sand) produced from the dredging. "Material is extremely scarce and so this opportunity for this company to pay for the dredging and donating all the material, you cannot get a better deal than that," said Area Representative for Belize Rural South Manuel Heredia Jr. Therefore, all materials resulting from the dredging has been going to different areas in the community, such as schools and streets.

"Surely when they give these permits they ensure that you have a curtain that will not spill any silt to the reef, but I must say anything you do has its little negative effects," replied Heredia when he was questioned about the effects this project may have on the environment. "Well inspection is done by all bodies, Fisheries, Department of the Environment and Geology; that is the procedure. Who went there for the inspection, I cannot tell you because it was somebody privately that was getting over there so he can better answer that," Heredia further said.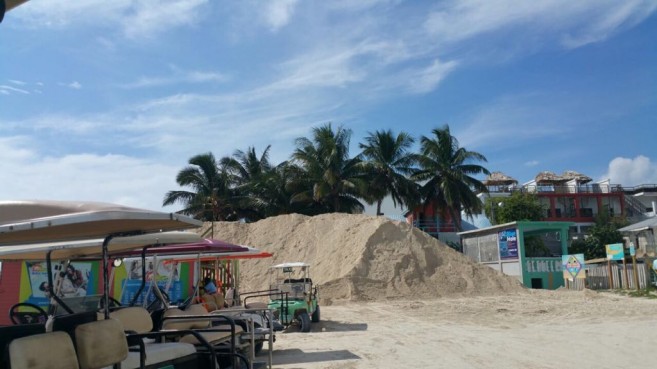 Despite the community benefiting from the dredging project, there are those who remain concerned that there will be damage to the marine environment.
Follow The San Pedro Sun News on Twitter, become a fan on Facebook. Stay updated via RSS