Truck used in illegal dumping south of San Pedro Town identified
Saturday, December 23rd, 2017
An eyewitness recently reported the improper and illegal disposal of garbage at the DFC subdivision of San Pedro Town. The person claims to have observed a gentleman in a grey Ford Pick-up Truck throwing bags full of garbage in an open area of the said subdivision. The complainant was able to take a picture of the vehicle's license plate number (A0368) as a means to properly identify the offender. But even though officers at the San Pedro Traffic Department (SPTD) were able to identify the culprit in their database, they explained that they cannot do anything due to insufficient evidence. Instead, they are encouraging residents to make reports as soon as the offense is in progress.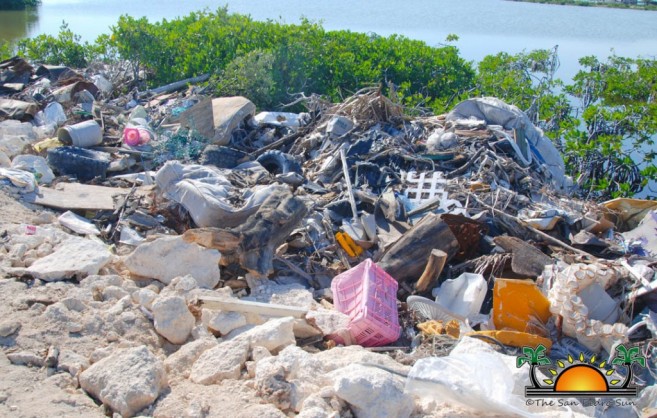 The SPTD advises the general public that whenever they see anyone illegally disposing of garbage in areas not assigned for dumping to immediately contact the respective authorities. According to them, the best way to find someone guilty and either fine or lay charges for littering is to catch the person in the act. They encourage persons witnessing such illegal acts to try to obtain as much evidence as possible, like photos of the persons or even videos of the suspect engaged in the activity. They added that once someone is found guilty of littering the person can then be punished.
In addition, the authorities at the Department of the Environment have mentioned in previous interviews with The San Pedro Sun that such disposing of garbage is not only harmful to the environment and but causes public health issues as well. In fact, the Environmental Protection Act chapter 328 Subsection 13-(1) states that 'no Person shall dump or dispose or deposit any garbage, refuse, toxic substances or hazardous wastes in any place that may directly or indirectly damage or destroy flora, fauna, or pollute water sources and the environment.' The Act continues by stating that any person who contravenes with this law automatically commits an offense and shall be liable on summary conviction to a fine not exceeding $25,000 or imprisonment for a term not less than six months and not exceed five years. The law also suggests both fine and imprisonment.
To report any illegal littering residents are encouraged to call the San Pedro Police station at 206-2022. You can also report the offense to a nearby traffic warden who would then issue a ticket for littering and take the person to the police station if needed.
Follow The San Pedro Sun News on Twitter, become a fan on Facebook. Stay updated via RSS