Forest and Fisheries Departments get SMART
Thursday, January 25th, 2018
Belize's conservation agencies, both government and non-governmental, have been using the Spatial Monitoring And Reporting Tool (SMART) technology to monitor the use and exploitation of the nation's natural resources for some time now. The Ministry of Agriculture, Fisheries, Forestry, Environment, Sustainable Development and Climate Change officially endorsed the effectiveness of the SMART technology at a ceremonial handing-over of licensing equipment by the Wildlife Conservation Society (WCS) at the Radisson Fort George Hotel on Wednesday morning, January 24th.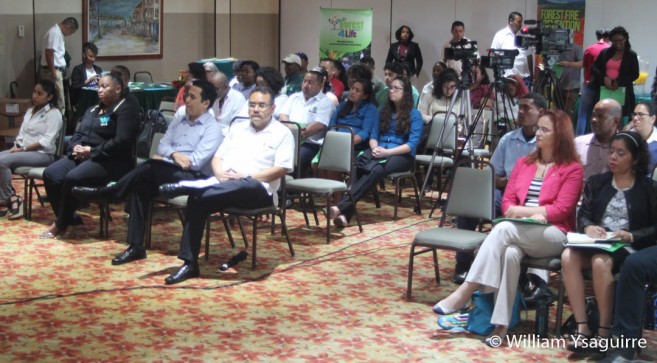 Minister of State Hon. Omar Figueroa expressed his pleasure at the way the Fisheries Department has been using SMART technology to effectively manage our marine resources, and conservation partners have also been using SMART on land to manage protected areas. Its usefulness in helping his ministry to deliver on its mandate prompted him to endorse the use of SMART technology at the national level for both the Forest and Fisheries Departments.
WCS' sustainable fisheries coordinator Julio Maaz explained that SMART is not only a desktop application but has proven effective in collecting data in the field and has been adopted for use at 389 sites in 46 countries. The Fisheries department has adopted its use in 10 protected areas by fisheries compliance units.
The software is free, so the departments do not have to pay any licensing to use it, and a consortium of conservation NGO's have taken on the task of updating the software and providing technical support for it. The equipment to use it is also less costly than other electronic equipment such as GPS devices, laptops, tablets and digital cameras that conservationist use for enforcement. WCS has held six SMART training seminars throughout the country – from Corozal to Toledo – to train 50 Forest Rangers, Fisheries personnel, and 12 protected areas managers and other field workers.
Where in the past different conservation agencies and departments were all collecting data, but in different formats, the SMART application provides a standard platform where all agencies will be collecting data in the same format, making the sharing and comparison of data a lot easier. This data model is not supplied by SMART but was developed through a series of consultations with the various partners that tailored the app to suit Belize's particular needs, based on what information was needed and how it would be analyzed and interpreted.
Maaz said that while they began to use the SMART app on a computer, over the past three years of working with the app, they have learned it can just as easily be installed on a tablet, a cellular phone or any mobile device, which can then be used to collect data out in the field, making the app more adaptable to outdoor use. The SMART app can be mated to another software – Cyber Tracker – so as to collect data in real time. The data model can also be tailored to suit the particular needs of each co-managed, protected area.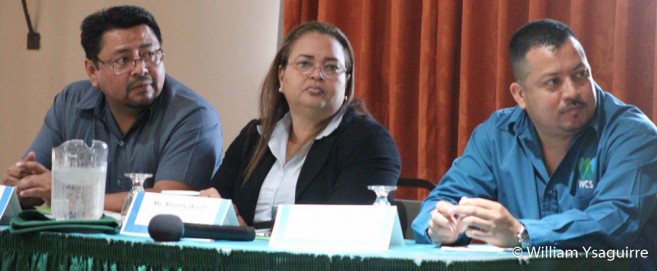 Most recently, the WCS held training sessions for the Toledo Institute for Development and the Environment (TIDE), the Southern Environmental Association (SEA), the Belize Audubon Society, and the Fisheries Department. SMART also makes it easy to develop reports as it analyses data and develops reports for easy comparisons of results over time, or by geographic location and compares different statistics, man-hours and other resources used to collect data that helps managers plan their patrols and other activities more efficiently. The app can provide a report for a period of a month, a quarter, a year, or even over several years to see trends.
The SMART app allows protected areas managers to see where there has been poaching of protected species or fishing in no-take zones, or where other violations are occurring, where there are gaps in the patrol coverage, and in what areas there is a need for more enforcement, and where they need to focus their efforts.
Fisheries Officer Isabel Martinez also explained the new updated licensing procedure for Belize's 2,716 fishermen; and how the new computers provided by the WCS and its database created from the fishers' information is helping to manage Belize's fisheries resources in a sustainable manner. Individual fishermen are now required to report their catch each year, and the license also indicates which two of the nine fishing areas the fisherman is licensed to fish in. The Department has also moved away from laminated licenses, which could be duplicated and forged, to new PVC license ID cards, which are less susceptible to falsification. Three percent of the fishers are women, and while 2,674 of those fishermen are Belizeans; licenses have also been issued to fishermen residents in Belize who are nationals of the United States, Canada, Mexico, Jamaica, as well as neighboring Honduras and Guatemala.
The occasion also served for the Forest Department to launch its communication strategy for Sustainable Forest Management, as explained by communications officer Violet Yorke-Roches. Dr. Jenni Saqui Ph.D. also explained the communication strategy for forest fire management.
Follow The San Pedro Sun News on Twitter, become a fan on Facebook. Stay updated via RSS