Caye Caulker residents weigh in on the impacts from the Caye Chapel Development
Monday, March 5th, 2018
The massive development at the island of Caye Chapel, which its Environmental Impact Assessment (EIA), is yet to be approved by the Department of Environment (DOE), has Caye Caulker residents very concerned. The development group on Caye Chapel are proposing to build a US$250 million 5-star resort over the next four years that will include an extended airstrip, brand new buildings along with a beach reclamation project and over the water structures. The developers are expecting to create as many as 500 jobs during the construction phase and even though they intend to take into consideration the traditional territorial fishing right of local fishermen, these are still not par with the development.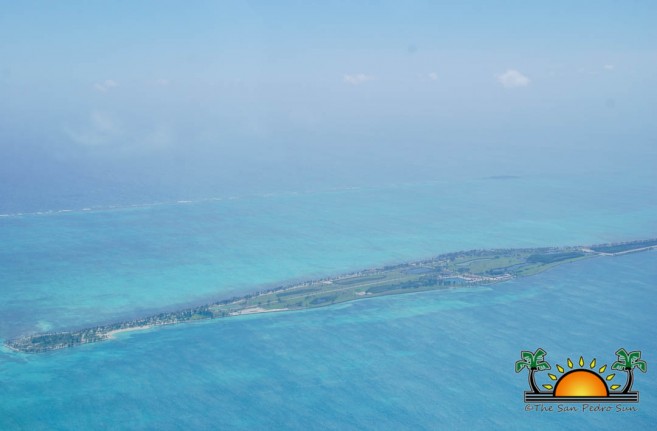 Many of the residents in Caye Caulker expressed that they are not against development, but what does not sit well with them is the intentions to manipulate the natural environment. Fishermen and tour guides are against the dredging that is expected to take place around Caye Chapel. Longtime fishermen Marty Rodriguez and Emilio Novelo are very active in their opposition to dredging and shared with The San Pedro Sun that they have already experienced the negative effects of the dredging. They recalled in February of 2017 the developers did a pilot project in beach building and engaged in dredging activities. According to Rodriguez and Novelo, just that brief dredging affected their fishing activities significantly. "The last time they test the area for dredging they did a lot of damage to the surrounding fishing grounds," said Rodriguez. "I lost over 20 lobster traps and the area is becoming less viable for fishing. Imagine it was just a test, and what about when they start with the full-scale project? It will destroy our fishing livelihood." Rodriguez mentioned that part of that dredging did not have skirting which led to the dredging affecting their fishing grounds.
Novelo pointed out that in the past when dredging was happening around the Caye the production of marine products was largely affected to the point that fishermen had to move to other areas. "The area that they wanted to dredge now is right in front of our fishing grounds. They want to dredge there because of the rich deposits of sand to build their beach. However, besides being part of our fishing areas, it is also an area with seagrass, home to turtles, different fish species, sharks including dolphins sometimes," Novelo said. "If they dredge they will hurt our livelihood, what will we do. Every year I get around 1,500 pounds of lobster among conch from that area, we have children and from that is what we mostly live. They want to build a beautiful project, but then they are also destroying the natural environment that not just will benefit them but us as well." Novelo added that the developers said they need to dredge and that they will be skirting the area around the Caye, but according to him, there are currents going in all directions which will spread mud and sediments all over the place including to the reef.
Rodriguez indicated that he attended a consultation regarding the project in November of last year in Belize City. He along with other Hicaqueños explained their concern being the threat to their fishing and recreation fishing grounds. "It is not just fishermen, we are human beings, we need to survive and we have bills to pay," said Rodriguez. "I am not against them doing businesses, but then at the same time, we also need to have a business." Rodriguez and Novelo pointed out that since their fishing areas are near the Caye, their employees have to try to chase them away and they have fired back by reminding them that the seabed is National Land. "They want to build a little over 30 over the water structures, extend their airstrip for bigger planes, I mean that is against the law and imagine when these aircraft are landing, the amount of noise and pollution they will create. It will be a total disaster for our fishing livelihood," said Novelo.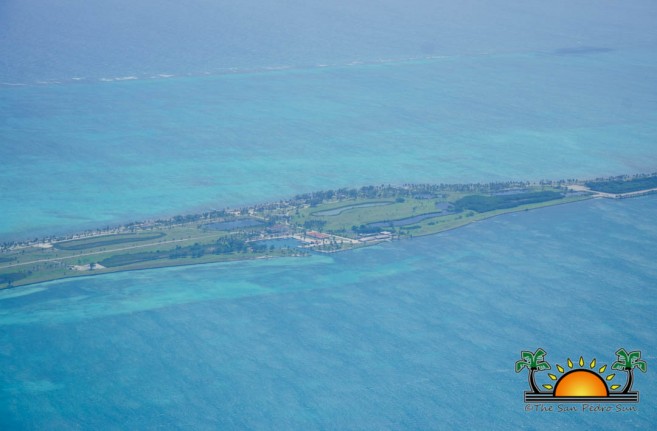 Both fishermen also indicated that during the consultation, developers insisted that it is a win-win situation as the project will create more jobs for them. The tour guides will be able to take the guests to the nearby waters for sports fishing and excursions, while the fishermen will supply the resort with the marine product. However, they are not as optimistic as the developers. "If they destroy the area where we have been fishing for many years, then we will not be able to supply them with any sea products," said Rodriguez. "Because of that we strongly opposed the dredging, there is nothing sustainable way in that practice's our main stand, we will suffer the losses, it will affect the reef and therefore heavily impact the tourism sector as well." Novelo and Rodriguez stated that they won't back down and if the project is given the green light they will wait and see if they will seek legal advice. "We will not give up if it is a project that will threaten our livelihood that we have lived off for 30 years, of course, we will fight," they said. "Because we will suffer, our children will suffer and we will lose millions of dollars. It is not just today or tomorrow, it is our generation, our kid's generation who will suffer." Both fishermen indicated that they do have the support from several environmental organizations but they have not received the adequate attention and support from the local authorities, such as the Fisheries Department.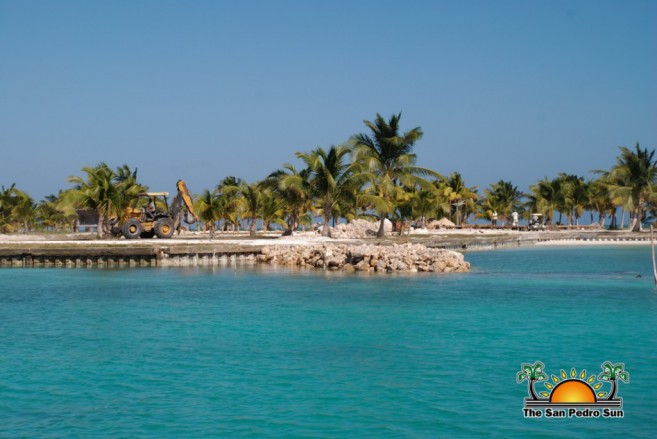 Other residents in Caye Caulker also support the fishermen's stand and believe it is an issue that is ought to affect everyone on La Isla Cariñosa. Dorothy Beveridge has lived on the island for several years and like the rest of the islanders believe something is wrong with that development. "We have been hearing from the local fishermen that the productivity of marine products has been decreasing due to the presence of this mega-development, which had done a test dredging," said Beveridge. "Our reef is our protection, mangroves are our protection, we are necessarily a beach island, so we need to educate the tourist to appreciate what is already here. Yes, we want to attract more tourists, but let's develop the area in a sustainable way, because if the natural resources are destroyed, particularly the reef, then there is will nothing for the tourists to come see." Beveridge and other residents denounce the fact about the intentions of building over the water structures. "What is so upsetting is that when someone comes here and buys a piece of land, they think that they own the sea around it. The sea does not belong to them, they want to change things and they did not buy the sea, the seabed particularly belongs to the Belizean people," said Beveridge. For the time being Caye Caulker residents mentioned that they will stay vigilant and see what becomes of this project in the near future. They emphasized that they want to work hand in hand with the developers, as long as their livelihood is not jeopardized.
The multi-million project continues to wait for its approval from DOE and developers expect an answer in the upcoming months. The Caye Chapel EIA was submitted to DOE to be reviewed on November 2, 2017, and up to press time upon checking the Department's website, the project's EIA status continues to be 'Under Review.'
Follow The San Pedro Sun News on Twitter, become a fan on Facebook. Stay updated via RSS