Plastic Recycling Campaign launched on Ambergris Caye
Thursday, March 22nd, 2018
To reduce the large amount of garbage on the island, a plastic recycling campaign has been spearheaded by island residents. The project consists of adopting large garbage barrels where people can discard plastic bottles. The lids of all bottles are being recycled and used by Belize Interlocking Bricks & Pavers to make bricks and the bottles are sent to a recycling facility located in Ladyville Village, Belize District where they are shredded and repurposed.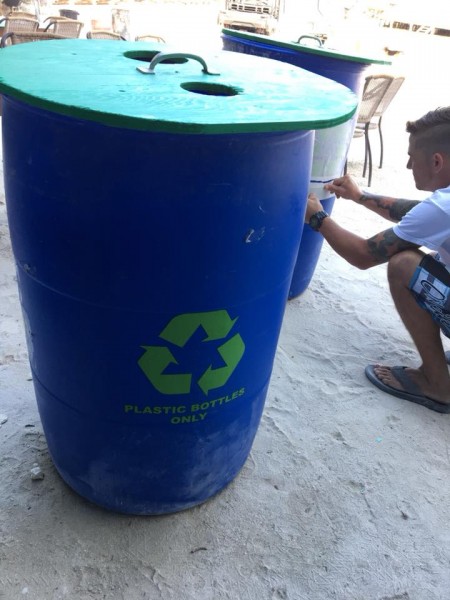 According to Ray Tyree from Belize Pro Dive Center, who is spreading this project, about three months ago he had the chance to meet with Gus Tabonay in San Pedro Town, who has a plastic facility in Ladyville Village where he recycles plastic bottles. He then gave him a tour of the island to see the garbage issue that the island is facing. Tyree then came up with the idea of having barrels at several businesses where people could dispose of their plastic bottles. "As tour operators, Emeliano Rivero and I care a lot about how our customers perceive Ambergris Caye. Brittney O'Daniel also decided to join us in this movement. Belize Pro Dive Center, Mayan Man Tours, San Pedro Pirates and Belize Interlocking Bricks & Pavers are all companies that are partners in this recycling project. We are dedicated to cleaning our island and any person that owns a business or lives here should do so," said Tyree.
Pick-ups for the plastic bottles are done every Mondays and Thursdays and the businesses are responsible for making sure the barrels stay clear of trash and has plastic bottles only. So far they are plastic recycling barrels at La Choza, Sandy Toes, Sandbar, YOLO dock, Poco Loco, Cocos Loco Beach Bar, Wild Mangos, across from San Pedro Roman Catholic School, and Crazy Canucks. If any business or person is interested in plastic recycling barrel they can contact Tyree at [email protected] or Birttney O'Daniel at 630-1241.
Follow The San Pedro Sun News on Twitter, become a fan on Facebook. Stay updated via RSS