Over 5000 lbs of trash removed from lagoon clean-up
Tuesday, April 10th, 2018
Hoping to raise awareness of the importance of mangroves in our ecosystem, a group of islanders came together for a lagoon clean-up in San Pedro Town on Saturday, April 7th. The lagoon clean-up was organized by MJ Leslie of Passionkite Belize, Chris Summers and Christina Manzi of the American Crocodile Education Sanctuary (ACES), alongside fly fishermen, Alexander Gomez. The event saw the participation of students, divers, police officers, tour guides, business owners, fishermen, conservationists, councilors, children, media corps, and other concerned residents.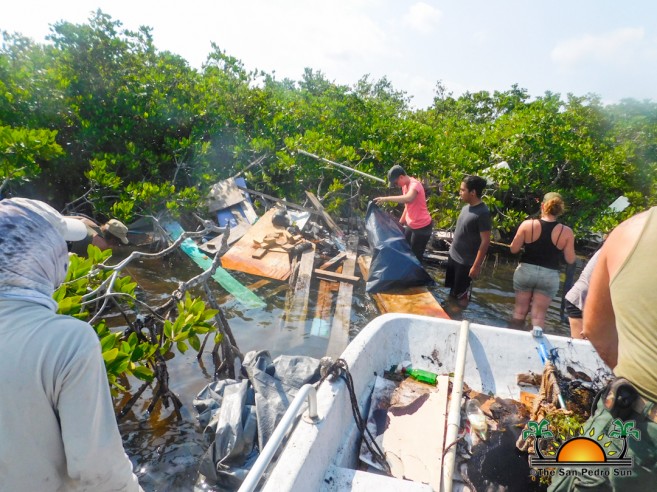 At 7AM, a large group of around 40 residents gathered at the Sir Barry Bowen Bridge in the Boca Del Rio Area. With seven boats on hand, the lagoon clean up began. Each boat carried a group of volunteers to tackle different areas of the lagoon, and some volunteers stayed ashore to clean up. After each team had filled their boats with garbage, they headed to the Sunset Boardwalk dock to drop off the garbage. Among the debris were old washing machines, dryers, golf carts parts, Styrofoam products, barrels, broken computers, refrigerators, rusty irons, grills, tires, pipes, and wood. By midday, the teams had dropped off more than 5,000 pounds of garbage removed from the mangrove roots in the lagoon. The San Pedro Town Council garbage trucks then picked the litter to take to the island's garbage sorting site.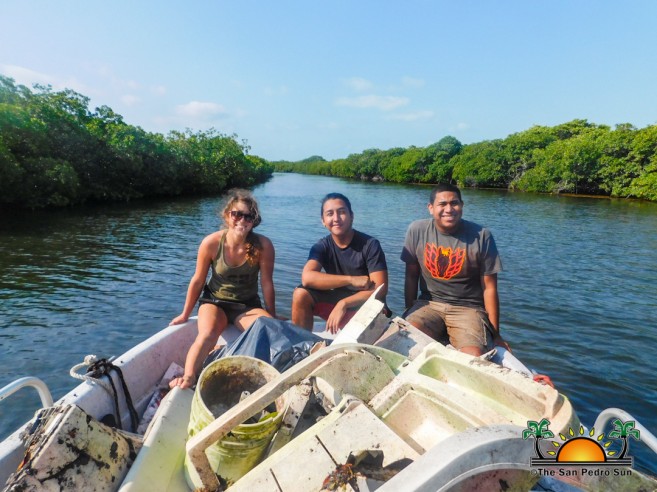 "I felt very proud that people from all different professions came together to make a positive difference! Tourism is our industry and we have to protect the environment and its ecosystems in order to keep it alive," said Leslie "Pollution is a direct threat to tourism; tourists don't want to see trash, they don't want to see plastic drifting in the sea and stuck to the mangroves. They want to think of a place that is clean and better. Most importantly we do it for the island, for the kids, and to save our marine life." Summers was also happy with the turnout of the clean-up, "It was an incredible day. The large number of people who showed up and the amount of trash that was pulled from the lagoon was unreal. Hopefully, the number of people there will inspire others that weren't with us all to join us next time and to be extra vigilant in catching those that are doing this horrendous dumping. Every single person on this island relies on this ecosystem, from bakers to insurance sales to tour guides.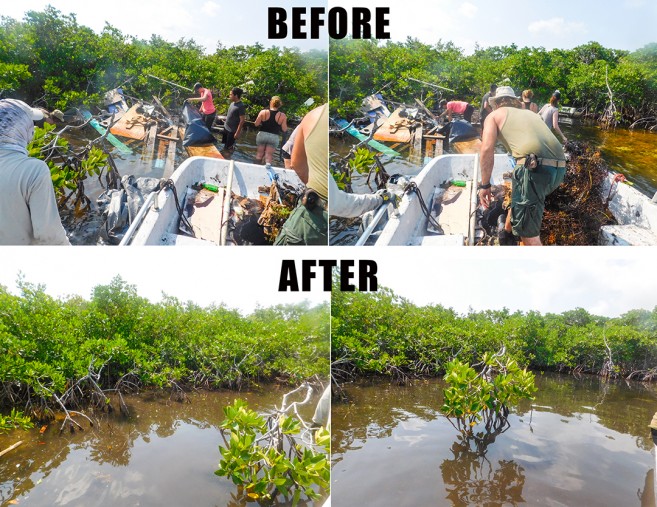 All of us rely on it one way or another. This island is the heart of Belize, it's time to treat it right. The people that showed up tells us this is the beginning of the end for trash on this beautiful caye."
Kudos to the youngest volunteers in the clean-up, 12-year-old Nicolas Lausen and 13-year-old Noah Beaumont from Island Academy. Organizers of the lagoon clean-up would like to thank everyone that participated in the activity and made it a success! They further advise everyone to continue with their efforts of keeping the environment clean. Even randomly picking up garbage while out on a walk makes a difference. Help us all to keep La Isla Bonita clean! Organizers are hoping to make this a regular event, The San Pedro Sun will have more details as they become available.
Follow The San Pedro Sun News on Twitter, become a fan on Facebook. Stay updated via RSS