Captain Shark's is testing a machine to combat Sargassum on Ambergris Caye
Tuesday, August 28th, 2018
The Sargassum epidemic that continues to plague the coast of Belize has prompted islanders to find a solution to contain the never-ending influx of the brown seaweed. A team at Captain Shark's Boatyard south of San Pedro Town has built a prototype of a Sargasso skimmer to remove the seaweed from the water more easily and efficiently. The skimmer was put to the test on Saturday, August 25th, and according to its builder, it performed fairly well on its first trial.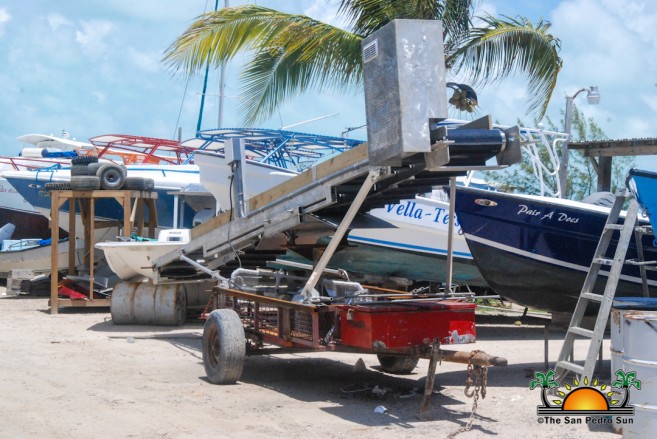 James Ritchie of Captain Shark's shared with The San Pedro Sun that after discussing the Sargassum issue with a friend from the United States, they built a model, which is smaller than what the actual machine should be. Ritchie explained that the machine would include a set of rubber floating booms which will guide the Sargassum to the skimmer's tooth conveyor belt. "Then we can remove the seaweed out of the water as it is picked up by the belt, drop into bins and then they will take it away by trucks," says Ritchie. He indicated that this is an experimental stage, but believes that with a couple of these machines on the island they can try to get most of the seaweed off the beaches.
Ritchie indicated that the machine did well, but as always, there is room for improvement. "We have to work a little bit more on it," he said. "We did not have the booms set up to guide the seaweed to the conveyor; we were just trying the machine." He stated that the machine runs with electricity only and that there will be doing more trials in the upcoming days.
The Sargassum situation continues to take its toll on the region by clogging bays, choking beaches and threatening the tourism industry. The foul smell that is released as it rots on the coastlines is bad enough to chase tourists away. Furthermore, the thick mats of the brown algae are starving many marine species from oxygen, killing them as it invades waters near the shores. Ambergris Caye continues to struggle with the non-stop arrival of Sargassum. The island has also seen how deadly the seaweed can be. In the past weeks, dozens of fish have died on its eastern and western coasts due to the massive influx that continues to infest the shorelines on a daily basis.
The creation of the Sargassum skimmers by Captain Shark's is expected to bring a viable solution, which in turn can keep Ambergris Caye's beaches clean and provide jobs for those operating the machines. The Sargassum removed from the beaches is expected to continue to be used as landfill and beach reclamation projects as well.
The San Pedro Sun will provide updates on this project as they become available.
Follow The San Pedro Sun News on Twitter, become a fan on Facebook. Stay updated via RSS