SP BTIA announces big garbage clean-up project for San Pedro
Saturday, November 3rd, 2018
The San Pedro Chapter of the Belize Tourism Industry Association (SP BTIA) has announced a massive clean-up project that will take place from Friday, November 9th through Monday, November 12th. The initiative, dubbed 'For the Love of San Pedro- Big Garbage Clean Up' aims to engage the entire island community as they attempt to clean the subdivisions in San Pedro Town. Launched along with the campaign is SP BTIA's super-hero mascot Captain Conch who encourages islanders of all ages to "Keep San Pedro Clean."

Although the focus of the collection of garbage will be on "white goods" (refrigerators, air conditioners, washers, dryers, appliances), no trash will be left behind. Volunteers wishing to join this effort can sign up by calling 226-2070. You can choose to do an entire day or just a few hours during the clean-up campaign.
The clean-up activity will start from 8AM each day and run through the evening until 6PM. Everyone is expected to meet each day at Central Park, and from there, transportation will be provided to the assigned areas. Each participant is asked to donate at least three hours of their time for this worthy cause, which seeks to keep the island cleaner and more attractive for our residents and visitors. The island needs your help to make it shine and again earn the title of "Number one island in the world."
Organizers have assigned specific areas of the island for each day of the campaign. On day one, November 9th, the San Pedrito Highway, along with the sub-division of San Pedrito will be tackled. This will be followed by San Pablo, Boca Ciega, and San Juan.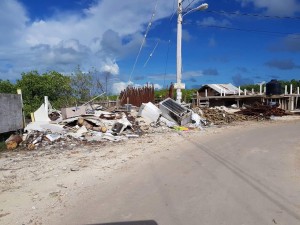 On Saturday, November 10th, the Boca del Rio Area, the Lagoon Area from San Juan to DFC will be cleared of any garbage that may be creating an eyesore in those areas. The next day, the group will move to the areas of Esmeralda, Escalante, Alta Mar and it will end at DFC.
On the last day, on Monday, November 12th the group will come together and target San Mateo. This is one of the subdivisions on the island that has been affected tremendously by the issue of garbage. Members of the SP BTIA are not alone on this fight and are counting on the support of every islander, including students, Non-Governmental Organizations and members of local government.
"We realize that this is a very ambitious endeavor," commented SP BTIA Chairwoman Tamara Sniffin, and we are committed to doing the job right at each location. We will work where we are until it is done, and we will do what we can within the four-day campaign. The number of volunteers we have will determine how much we get done.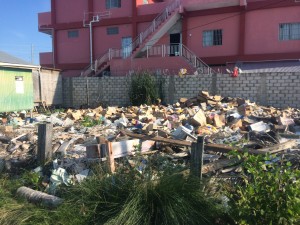 Community support has been great so far, with Town Council providing two trucks and a front-loader each day, along with other businesses and individuals offering trucks and vehicles. Many organizations like church groups and sports teams are offering their time, and the Department of Waste Management has offered to waive all fees at the transfer station during this time and they will arrange to barge the trash off the island. We encourage people to PLEASE pull out their big appliances and trash items to the front of the street, so we can collect them along the way. We are also super happy with the Captain Conch clean-up song and video we recently produced and shared on YouTube and on our Facebook page. We are seeing a lot of social media shares!"
For those who do not have the time to join in the collection, cash donations are also being accepted. "We will use the cash donations to hire people at $50/day to help on the weekdays with the clean-up," explained Sniffin. Businesses can also let their employees give a few hours to the cause, or donations for supplies or snacks for the volunteers each day are being accepted. Garbage bags and gloves will be donated by Oceana Belize and vehicles to transport the garbage collected are welcome.
The SP BTIA committee once again takes this opportunity to invite everyone to be part of this initiative that will not just benefit the different neighborhoods mentioned above, but the well-being of San Pedro, who is home for all. For the Love of San Pedro, let's all come out and clean up our Isla Bonita!
For further information, do not hesitate to call 226-2070 or email [email protected]
Follow The San Pedro Sun News on Twitter, become a fan on Facebook. Stay updated via RSS