Large dredging projects on the island on halt; no permit renewal and court hearings continue
Friday, April 30th, 2021
Two major dredging projects that caused concerns last year in San Pedro Town remain inactive. One described as a sand reclamation project south of the island was authorized to operate until the end of 2020. According to reports from the Hol Chan Marine Reserve (HCMR), dredging permits were not renewed after an alleged breach of their agreement with the government. Meanwhile, the second project happening on the north-western side of the island was unauthorized and within HCMR. This case is still in court pending a final verdict.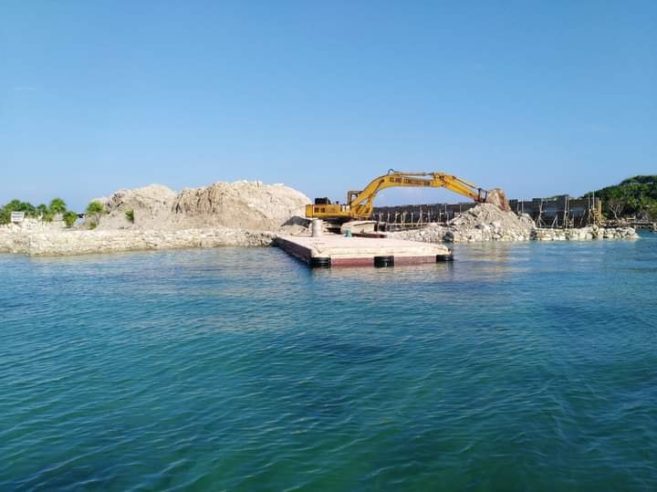 The infraction on the northwest side of the island revealed a massive dredging project that had been going on for some time. According to HCMR, they tried to stop the illegal dredging for months once they learned that it had no permits from relevant authorities such as the Mining Unit and the Department of Environment (DOE). Reports were filed, and developer/s were served with verbal and formal Cessation Orders, but the project continued.
In late September, HCMR involved other enforcement agencies comprising of the police and the Fisheries Department. They arrested employees that were on duty, and authorities confiscated a floating pump used for dredging. The area was then secured, putting a stop to the ongoing unauthorized work. It was reported that a large excavator was at the site, but when the enforcement team arrived, it had been removed.
The matter continues at the Magistrate Court with the hearing adjourned. It is hoped that the court will soon issue a verdict as to what the penalties will be. Some range from illegal dredging and operating without environmental clearance. No formal reports have been forthcoming from DOE, and no one could be reached at the Mining Unit for an update on their investigations.
Follow The San Pedro Sun News on Twitter, become a fan on Facebook. Stay updated via RSS