Caye Caulker Fisheries Department receives donations from two ministries
Wednesday, July 28th, 2021
A collaboration for the better management of marine reserves between the Ministries of the Blue Economy and Civil Aviation and Tourism and Diaspora Relations saw the Caye Caulker Fisheries Department receiving an assortment of much-needed equipment on Monday, July 26th. With this boost in resources, the goal is to enhance the management of the Caye Caulker Marine Reserve, which is highly utilized for tourism and recreation.
The donation includes additional mooring buoys, a boat, and engine, a Quadcopter Drone for effective patrols, a GPS rangefinder to improve security and monitoring, waterproof binoculars, spotlights, flashlights, uniforms, and gear for the field management staff.
This collaboration came into fruition via the Sustainable Tourism Project #2, implemented by the Ministry of Tourism and Diaspora Relations. According to this Ministry, the project aims to increase tourism expenditures, employment, and income through tourism product diversification while promoting disaster and climate resilience and environmental sustainability in tourism destinations. The plan is to improve sector governance, creating conditions for private sector investment in overnight tourism.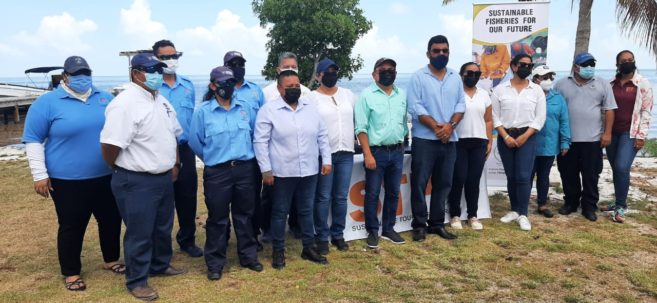 The Tourism Minister, the Honorable Anthony Mahler, is optimistic that tourism will continue to increase in Belize for the remaining year, and the proper management of marine resources is imperative. "It is critical that we ensure that we have sustainability for many years to come. We will do everything in our power possible to ensure that all our partners have the necessary resources," Mahler said. He believes that such a partnership will ensure sustainability for the years to come.
The Honorable Andre Perez, head of the Ministry of the Blue Economy and Civil Aviation, said that the proper management of marine protective areas is crucial in developing this new Ministry. It walks hand in hand with tourism, thus, their close relationship with that Ministry. He explained that developments like this attract investment and highlighted the positive response received after banning shark fishing. "It brought in some funds, which are going to be needed for many fisherfolks who are disenfranchised," said Perez. He explained that they would assist these fishers with such funds and teach them how to engage in other types of fishing. Perez thanked Mahler's Ministry for the much-needed donation and said that the contribution resulted from their sisterhood.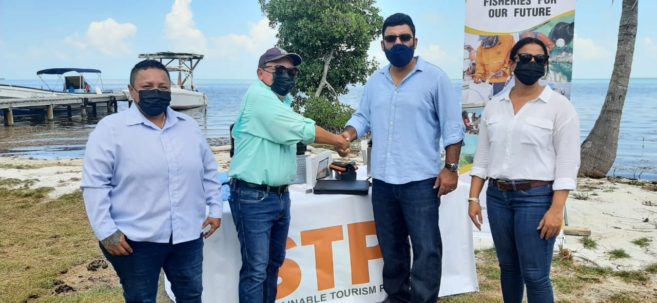 Caye Caulker and Ambergris Caye provide the central government with a huge chunk of the 40% tourism Gross Domestic Product. As Honorable Mahler said, they will try to give all partners managing marine protected areas resources. Along the coast of Ambergris Caye, there are several marine protected areas in need of equipment. It is yet to be seen which of these national marine parks will benefit from this ministerial partnership. Some management staff manning marine protected areas in isolated northern Ambergris Caye areas are said to lack equipment and much-needed resources. These areas have recently become hot zones due to its proximity to the Mexican border; thus, more attention from the government is needed in secluded marine reserves.
Follow The San Pedro Sun News on Twitter, become a fan on Facebook. Stay updated via RSS