Belize to Benefit from UK's Blue Planet Fund through the Ocean Country Partnership Programme
Monday, August 23rd, 2021
• On 13 August 2021, the United Kingdom (UK) announced £16.2m funding from the UK's £500 million Blue Planet Fund (BPF) would go to new five programmes to tackle climate change, restore ocean health and reduce poverty in developing countries globally . One of these programmes is the Ocean Coutry Partnership Programme (OCPP)
• Currently, Belize is the only country in the Caribbean region that will benefit from projects developed and implemented under the OCPP during the first year cycle of 2021-2022.
• Under the OCPP, UK scientific advisory, marine management and regulatory organisations will be collaborating with Belize entities to strengthen marine science capability and further develop policy-making in the areas of marine pollution, biodiversity and sustainable seafood, to deliver scientific expertise and technical assistance based on agreed country needs, adding value to existing and planned programmes of work.
• In the run up to COP26, the UK as incoming COP26 Presidency, is reinforcing through the BPF the UK's global leadership in marine issues, highlighting the vital role the ocean plays in regulating our climate, and working with developing countries to take action to protect and restore our ocean.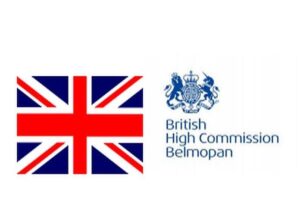 The OCPP will incorporate and expand on the UK's existing programming and partnership work, to continue transformative work on marine litter, as well as bringing in activities to tackle other forms of marine pollution and support biodiversity and sustainable seafood challenges and opportunities.
In recent years, the UK has collaborated with Belize on several high-profile environmental scientific programmes, for example:
1) The Commonwealth Litter Programme (CLiP) which in 2019 developed the Belize Marine Litter Action Plan (MLAP) in consensus with multi-sector stakeholder groups, adopted by the Government of Belize in August 2019. CLiP also developed Belize's scientific and technical capacity for monitoring marine litter, for example with the setup of a microplastics lab. The OCPP stands ready to support implementation of the MLAP.
2) The Commonwealth Marine Economies Programme (CMEP) has partnered with key authorities in Belize to produce habitat maps, aquaculture technical advice, and assessments of climate change and ocean acidification.
3) Under the Blue Belt Programme, the UK worked with local organisations to trial innovative monitoring technology, for example a long-range beyond line-of-sight UAV trial, capable of tackling illegal fishing.
The OCPP will incorporate and expand on these UK programmes and partnerships with Belize to work through thematic areas of:
• Biodiversity – by adding value to the excellent work in Belize on marine protected areas (MPAs) and providing technical assistance to enhance the MPA network in collaboration with Fisheries Department, Coastal Zone Management Institute & Authority, and other stakeholders;
• Pollution – by absorbing and building on the positive work delivered through CLiP in Belize and supporting MLAP implementation in collaboration with the Department of the Environment;
• Sustainable Seafood – in this new focus area, by developing new partnerships with government departments and local aquaculture producers to ensure the future provision of safe and sustainable seafood to enable trade or local consumption.
The UK Government through its Department for Environment, Food and Rural Affairs (Defra) and the British High Commission in Belmopan has already commenced formal discussions, albeit virtually, with the Government of Belize to plan the way forward in implementing the OCPP in Belize. In coming weeks Defra will be meeting again with the Ministry of the Blue Economy and Civil Aviation; Ministry of Sustainable Development, Climate Change and Disaster Risk Management; Ministry of Agriculture, Food Security and Enterprise; and thereafter, with GOB permission, stakeholders from public and private sectors.
Her Excellency Claire Evans OBE, British High Commissioner, stated:
"We recognise Belize's commitment to environmental management, marine conservation, biodiversity protection and tackling climate change, and hope that UK's partnership through the OCPP will continue to support Belize's world leading actions in these areas."
In response to the BFP announcement and upcoming OCPP project initiative, Hon. Andre Perez, Minister of the Ministry for Blue Economy and Civil Aviation, stated:
"Belize's blue assets have been central to its development and quality of life of its people. The support of the UK government represents a strategic partnership contributing to our economic recovery through the effective management of our biodiversity, which underpins blue economic development."
Hon. Orlando Habet, Minister of the Ministry for Sustainable Development, Climate Change, and Disaster Risk Management, stated:
"Belize's oceans and the health of our marine ecosystems are one of the cornerstones of Belize's long term sustainable social and economic development and must be at the vanguard of ocean policy decision making now and in the future."
Follow The San Pedro Sun News on Twitter, become a fan on Facebook. Stay updated via RSS