CABEI approves US$30 million credit to Belize
Friday, October 24th, 2014
Tegucigalpa October 20 2014- The Central American Bank for Economic Integration (CABEI), recently approved a loan for up to US$30 million to the Government of Belize for the execution of the Belize Integral Security Programme (BISP), initiative that is aligned to the Central American Security Strategy (ESCA for its Spanish translation).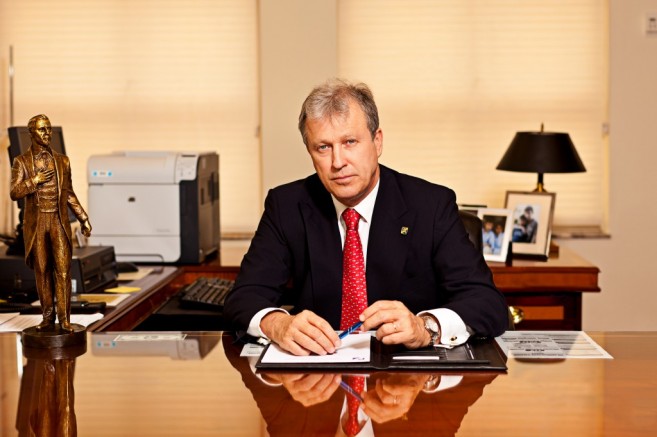 In this regard, the Executive President of CABEI, Dr. Nick Rischbieth indicated that this credit will support investments in infrastructure and equipment in Belizean institutions responsible for the security of the Belizean people..
In addition, Executive President Rischbieth, highlighted CABEI's commitment to the continued support towards the strengthening of regional security and assistance to Central American governments through loans and guarantee schemes, in accordance with bank's Institutional Strategy "Competitiveness with Integration and Social Development".
The Belize Integral Security Programme is a part of the National Security Strategy promoted by the Government of Belize and in its first phase will focus on the rehabilitation of existing edifications, construction of new civil works and equipment provision for the Belize Police Department, Belize Defence Force, Belize Coast Guard and National Forensic Science Services.
The Belize Integral Security Programme is a part of the Central American Security Strategy Support Program which was approved by CABEI in 2013 as a means of assisting SICA countries and reinforces the Institution's commitment to contributing to the achievement of regional priorities.
CABEI supports through its ESCA Support Program, regional and national infrastructure and equipment projects aimed at combating crime, social violence prevention, social reintegration and the institutional strengthening of the security and justice sector in Central America.
About CABEI
With 54 years of existence, CABEI is the Development Bank for Central America. It is the strategic partner and leading resources provider of the region, focused on improving the quality of life of Central Americans by promoting economic and social balanced development, regional integration and the sustainable use of its natural resources.
Based in Tegucigalpa with offices in all Central America, CABEI was founded in 1960 by Guatemala, El Salvador, Honduras, Nicaragua and Costa Rica. Recently, the Bank also incorporated as extra-regional members: Mexico, Republic of China (Taiwan), Argentina, Colombia, Kingdom of Spain, Panama, Dominican Republic and Belize as a beneficiary non-founding country.
CABEI's financial strength is recognized by grade A scale ratings recognized by three different international rating agencies: Standard & Poor´s with an A rating, Moody's with an A1 rating, Fitch Ratings with an A and Japan Credit Rating Agency "AA-".
Follow The San Pedro Sun News on Twitter, become a fan on Facebook. Stay updated via RSS