Minister of Local Government, Honorable Hugo Patt visits San Pedro
Thursday, February 11th, 2016
The Honorable Hugo Patt, Minister of Local Government, Labour and Rural Development, along with an entourage of eleven members of his ministry made an official visit to San Pedro, Ambergris Caye on Thursday, February 4th. The visit was part of a national tour that Minister Patt is doing around the country in order to build and further foster a strong working relationship between all municipalities and ministries countrywide.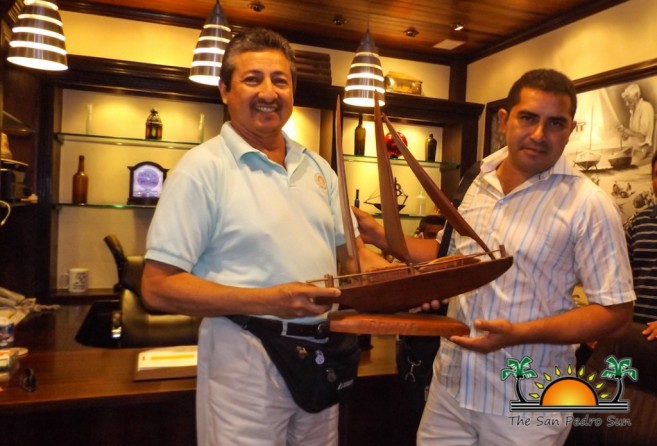 Mayor Daniel Guerrero, along with Deputy Mayor Gary Greif and Councilors of The San Pedro Town Council (SPTC) welcomed Patt and his team to the SPTC office. During the meeting, Guerrero officially welcomed the Minister and his staff to Ambergris Caye. He mentioned that government officials need to make such visits/activities more often to the municipalities so that issues pertaining Central Government can be better addressed. He added that visits should also be done to the educational institutions and other governmental branches in each municipality. Guerrero also touched on the topic concerning the communication between the Local and Central Government, which according to him, needs improvement. Guerrero hopes communication advances with such official visits.
Minister Patt expressed his willingness to assist through his Ministry, indicating that his reason for visiting is to find out how he can assist and work together with everyone. He stated that any concerns can be brought up to the Ministry of Local Government who will make sure they are taken care of and given the adequate attention. According to Patt, the Ministry wants both the Municipality and the Ministry of Local Government to work together in order to continue contributing to the development of San Pedro Town, one of the prime tourist destinations in the country. During the open discussion, some of the Councilors had the opportunity to discuss a few matters of interest with Minister Patt and his team.

Before the meeting wrapped up, Minister Patt was presented with some tokens from Guerrero on behalf of the SPTC and the island.
After the meeting, the Minister and his team were given a tour of the Town Council's newly renovated offices and facilities. Patt and his team also toured the island before their departure.
Follow The San Pedro Sun News on Twitter, become a fan on Facebook. Stay updated via RSS