The University of Belize and Belmopan City Council Strengthen Partnership for National Development
Saturday, April 8th, 2017
His Worship Khalid Belisle, Mayor of Belmopan, made a courtesy call on the new President of the University of Belize, Professor Clement Sankat on Wednesday, 5th April at the University's Main Campus in Belmopan. This was a familiarization meeting allowing the two leaders to discuss how best the Belmopan City Council and the University can work collaboratively together in such a way to simultaneously contribute to the Development of the Municipality, the University and the nation of Belize as a whole.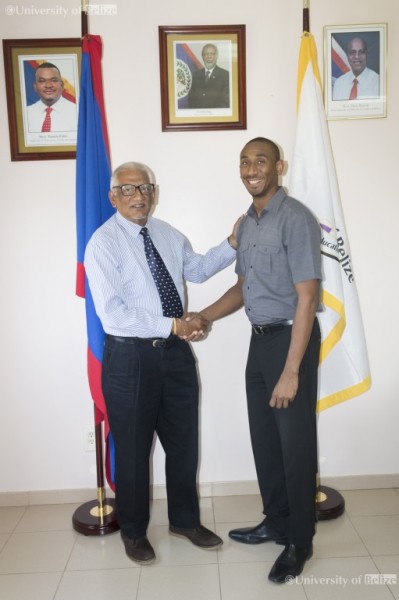 In a show of good will, Mayor Belisle has committed to assisting the University to upgrade a portion of road way and adjacent parking lot on the university grounds and Professor Sankat has committed to assist the Belmopan City with access to research/academic data suitable for special projects the Mayor may want to pursue. One of these projects will be the Mount Pleasant Creek Development including an Ecological Assessment and recommendations for upgrading and recreational use.
The two leaders further discussed ways in which the City and the University have already been working collaboratively with UB's participation in the drafting of the Belmopan Municipal Development Master Plan and the possibilities for the Belmopan campus to be further enhanced with student residences, etc.
Mayor Belisle and Professor Sankat agreed that a formal Memorandum of Understanding (MOU) will be developed that will outline the areas of collaboration with tangible benefits to both the City of Belmopan and Belize's National University with a commitment to National Development. Mr. Harrison Pilgrim, Chairman of the UB Board of Trustees, was unavoidably absent from today's meeting but commented that this collaborative dialogue and resulting partnerships signals the University's heightened commitment to work with community stakeholders.
Follow The San Pedro Sun News on Twitter, become a fan on Facebook. Stay updated via RSS