Governor General approves PACT Amendment Bill: Departure taxes increase
Friday, April 14th, 2017
The Protected Areas Conservation Trust (PACT) Amendment Bill was approved on Friday, March 31st by Governor General Sir Colville. The bill proposed the introduction of additional fees, which will be collected from all non-Belizeans when departing the country via air travel. Although it was previously voted down by the Senate, the GOB proceeded to pass it on to the Governor General for assent. The bill became effective as of Saturday, April 1st, which increased the previous Conservation fee by $32.50BZ. The departure fee has now increased from BZ$78.50 (US$39.25) to BZ$111.00 (US$56).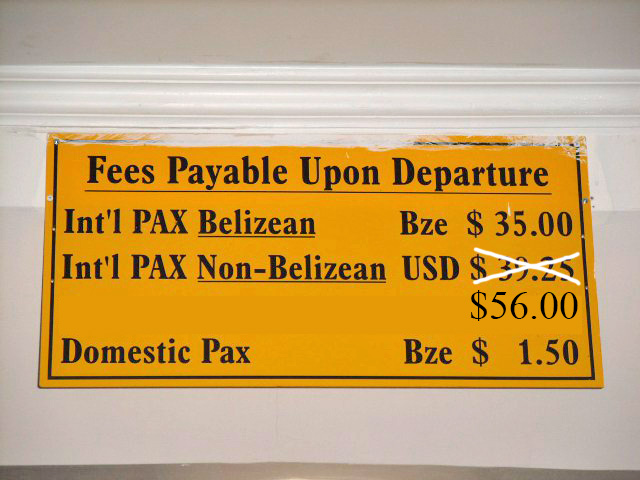 The new departure fees is considered the second highest departure tax in Central America. The GOB implemented this new measure to increase the revenue for the approved fiscal budget. A total of $11 million dollars is projected to be raised within the next four years, and will be deposited into the Consolidated Revenue Fund.
Prior to the bill being passed, this departure increase raised much concern among the tourism industry, which prompted the Senate to vote against the bill in a seven-to-six vote on Monday, March 27th. The 13th Senator, Honorable Osmany Salas, along with other social partners voting in opposition, stated that the PACT Amendment Bill, which is considered a 'money bill,' can bring serious implications to the country's economy. However, the votes were in vain as Prime Minister, Right Honorable Dean Barrow overrode the Senate's decision on Wednesday, March 29th, and pushed for its approval. In a press release by the GOB, it stated that the country's Constitution allows a money bill to be presented to the Governor General for his assent in accordance with section 78(1) of the Constitution of Belize, even if it was defeated in the Senate.
Following the bill's passing, many tourism and business stakeholders have spoken about the adverse effects of the new departure fees. In an editorial written to The Amandala, Lucy Fleming, owner of The Lodge at Chaa Creek in Cayo, Belize, voiced concerns raised by tourism industry professionals throughout Belize regarding the GOB's amendment to the airport departure tax.
According to Fleming, Belizean livelihoods are at stake. "It is no secret that tourism, as Belize's primary employer, drives the national economy. As a major employer of Belizeans, we find this prospect deeply disturbing. The people responsible for raising the departure tax will not find their livelihoods and families disrupted, but tens of thousands of ordinary, hardworking Belizeans will. Nations such as Cuba, Costa Rica and Mexico absorb those tourists no longer coming to Belize, and the country continues to languish because, once travelers find a destination too expensive, or feel they are being taken advantage of, they will not only stay away, but will spread their displeasure through word of mouth," said Fleming.
She explained that increased departure taxes have a detrimental effect on tourism. "As GOB raises the departure taxes, many travelers, especially those travelling with families or in groups, add up the costs and decide either to go someplace else or vacation in their own country. As tourist arrivals drop off, resorts, hotels, restaurants, tour operators, guides, suppliers and many more begin to cut back on staff, putting many people out of work. Demand for goods and services across the board drops," said Fleming.
Fleming also suggested that the GOB should conduct a comprehensive review of the effects on all increased departure taxes across other countries. Fleming provided that Malta repealed their departure tax in 2008, followed by Ireland, Mexico and other countries, including the United Kingdom, along with Australia, who recently voted down an increase in their departure tax.
In addition, the Netherlands "Air Passenger Tax" was short lived because it proved to have a disastrous effect on their travel industry. In 2008, Amsterdam's Airport Schiphol recorded a net loss of approximately two million passengers, leading the Dutch government to repeal the tax. After the departure tax was removed, air transport grew rapidly. However, after the repeal of the departure tax, total air passenger figures still managed to increase from 22.8 million in 2010 to 25 million in 2011.
Fleming indicated that although she cannot change the ruling, she will continue to voice her concerns, especially since many Belizean families have worked hard to develop the country's current tourism industry.
Meanwhile, Senator Valerie Woods told Belize City media that she is considering to pursue legal action, since the bill did not follow procedures of Section 78 (1). "Our view is that when you read Section 78 (1), it does allow for that democratic process because it refers to certain time frames such as within a month. It is a fact that Money Bills don't get to be stopped by a Senate; but it is also a fact that Money Bills can be debated and sent back for further discussion, improvement – within a month, though, no more than a month – before it gets sent to the Governor General," said Woods.
Woods stated that she has met with legal counsel within the People's United Party (PUP), while they are closely reviewing everything that has unfolded since the defeat. For now, tourists leaving Belize via air travel will be required to pay a total of $111BZ.
Follow The San Pedro Sun News on Twitter, become a fan on Facebook. Stay updated via RSS