Senate Special Select Committee resumes its probe on immigration scandal
Friday, May 5th, 2017
After a brief break, the Senate Special Select Committee resumed its investigation into the Auditor General's Special Audit report on Wednesday, April 26th. The Committee continued its inquiry into allegations of corruption at the Passport, Visa, and Nationality Departments between 2011 and 2013. During the interrogation last week, three persons sat in front of the committee to give their testimonials.
The report from the Auditor General documented that in late 2012, eight visa stickers were removed from the Immigration Department at the Belize Western Border. The report states that the stickers were handed over to a supposed visa agent only known at the time as 'Mr. Middleton.' Later it was revealed that his full name is Barton Middleton.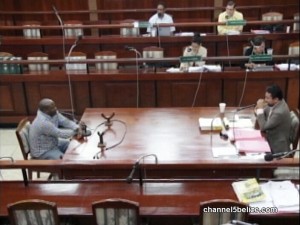 Allegations maintain that Middleton sold those visas to the Belize City Council Financial Controller, Patrick Tillet, and former Belize City Deputy Mayor Eric Chang. However, after finding out that the visas could not be used, Tillet and Chang tried to get their monies back, but to no avail. When both appeared in front of the Committee for questioning, Tillet confirmed that he was paid $5,000 to process visas for some Chinese nationals and more than half of that amount went to Middleton.
However, Middleton could not be found at that time for questioning. His whereabouts were finally revealed by a senior immigration officer, and when he was questioned, Middleton was reluctant to comment because he was fearful for his life.
On Wednesday, April 26th, he was called back for further interrogation, as he seemed ready to speak. But, it was not what the Senate Special Select Committee expected. Middleton told the Committee that he was invoking his constitutional right to silence and declined further comment. "I don't have to explain, sir, I don't have anything else to say," Middleton said. "That's my constitutional right, and I don't have to give a reason."
In response, Committee Chairman, Aldo Salazar warned Middleton. "We have decided that we will hand over all information and evidence that we have to the office of Director of Public Prosecutions," said Salazar.
The same warning went to two other witnesses that were interrogated that day: former data entry clerk at the Immigration Department Omar Philips and Theresa Chavarria, retired Immigration officer. Philips ended up before the Public Service Commission over South Korean fugitive Won Hong Kim, who obtained a Belizean passport while in a Taiwanese prison.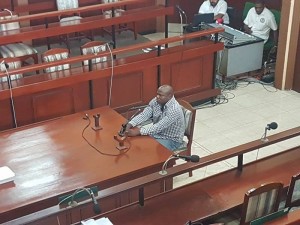 Philips argues that the front desk clerk relies on the authenticity of the birth certificate or the nationality certificate, when processing an application. He was asked if he was trained to detect irregularities in documentation. Philips stated that he was taught to accept the application form and save data.
When Chavarria made her testimony it contravened that of several other witnesses, who have testified that the passport picture system could not be falsified. She revealed that on a number of occasions, she had tricked the system by printing an enlarged picture of an applicant and taping it to the back of a chair where the applicant would sit to take the picture. "The quality was not what we expect, but we needed to get these people out," Chavarria said. "We could recognize the person and it was accepted."
Before the inquiry ended, Chavarria noted that it would be difficult for any authority to notice any flaws in the passport picture. She stated that in a legitimate situation, there would be no issues.
The Senate hearing continued on Wednesday, May 3rd, with the interrogation of Rodolfo Bol Jr., Information Technology Manager at the Immigration Department. This was his second appearance in front of the Senate Special Select Committee. At his prior appearance he contended that it was impossible to falsify a picture into the immigration system. However, after it was contradicted by Chavarria, Bol told the Committee that he was unaware of those circumstances.
Follow The San Pedro Sun News on Twitter, become a fan on Facebook. Stay updated via RSS