Belize Accepts BZ$28.8 M From EU For Projects In The Health and Public Finance Management Sectors
Saturday, March 31st, 2018
The Prime Minister of Belize and Minister of Finance Rt. Hon. Dean Barrow and the European Union Ambassador to Belize H.E. Malgorzata Wasilewska signed two Financing Agreements for a total of BZ$28.8 M for projects in the Health and Public Finance Management sectors. The signing ceremony took place at the Prime Minister's Office at the Laing Building in Belize City.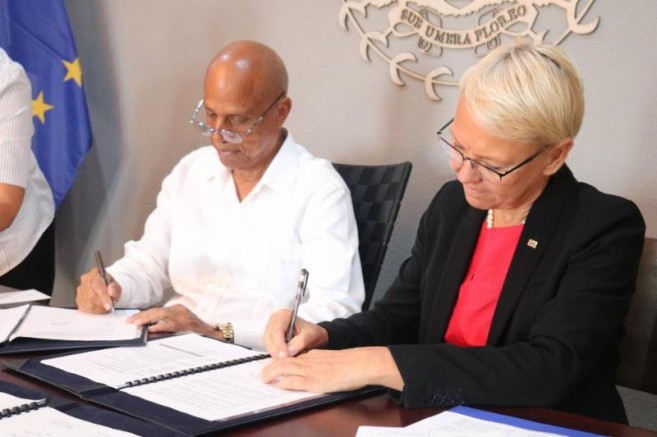 Funding for the two sectors is allocated under the 11th European Union Development Fund (EDF) to assist in the social and economic development of Belize. The proposed projects are in line with Belize's Growth and Sustainable Development Strategy and will assist in achieving the country's commitment to the Sustainable Development Goals.
BZ$25.6 M has been allocated for the Health Sector initiative, which will focus on the upgrading of health facilities to meet SMART and Green standards. This will enable health facilities, in particular, regional hospitals and the Central Medical Laboratory, to withstand natural disasters as well as to be more energy efficient, and meet safety criteria for patients and medical staff.
Other components of this Health Sector initiative will include upgrading of Belize's Health Information System, and the strengthening of organization and management of health services. The initiatives are expected to contribute significantly to a high-performing and improved health sector for the health and well-being of Belizeans.
The Public Finance Management allocation totals BZ$3.2 M with an objective to achieve more efficient public finance management, notably through the strengthening of the internal and external audit control systems and the Office of the Contractor General. In addition, Public Finance Management oversight and control functions will be improved.
The collaboration between the European Union and the Government of Belize over the years has contributed and continues to support the sustainable development of Belize.
Follow The San Pedro Sun News on Twitter, become a fan on Facebook. Stay updated via RSS