Health & Happiness – By Rachelle Wintzen
Sunday, October 23rd, 2011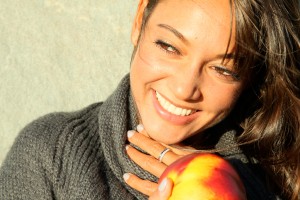 By Rachelle Wintzen
A moment at a time…
Today we are surrounded by so much stimulation that it makes it hard to focus on one thing at a time. We get bored so easily and our attention changes focus so rapidly. At one time we can be on the computer, talking on the phone, have the tv on and be talking to someone in front of us simultaneously and not be paying attention to any of it. We try to take on so much and feel like we are on a constant rat race. Whether it is running a business, working to put food on the table, raising kids or just trying to find our place in the world, life has us running on a never ending hamster wheel. We find ourselves saying "I don't have time" more than we realize. We often don't make time for the joys in life as they don't come as priority, we put aside a family dinner for a work dinner or meeting instead.
Being home with my family made me realize the sadness to living a life like this. Life passes us by so quickly and it always seems to come as a surprise. As I watched the days go by so fast and didn't get to do half the things we wanted as a family because "we don't have time" made me realize the importance of making time for what we love. It is about balance in life and living life in the present moment.
Even when time is limited or we are constantly rushing we must try to be present in the moment. If it is spending time with loved ones, let yourself be completely in the moment and cherish that time together. So often we are with friends or family and our mind is elsewhere thinking about the to do lists or where we have to rush off to next. If we allow our mind to focus on the present moment we can be better listeners, friends, family members and put more of our attention and focus on the task at hand, often allowing us to be more productive. Even when we are stressed, or late we often cannot change the fact that we are going to be late. Instead of panicking, accept that you are going to be late and be present in the moment of getting to where we need to get to and deal with the consequences when they present themselves. You may even prevent an accident!
Life is too short so live in the moment, otherwise you will miss the moments that become memories.
Rachelle Wintzen is a New York certified clinical nutritionist, yoga instructor and iridologist. For appointments please contact 635-4661 [email protected] www.chijunky.com FB/Twitter Chi Junky
Follow The San Pedro Sun News on Twitter, become a fan on Facebook. Stay updated via RSS