World Tobacco Awareness Month observed
Saturday, May 26th, 2012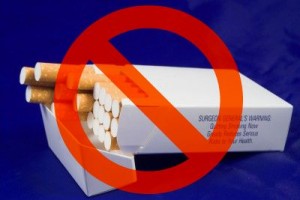 The month of May is observed as World Tobacco Awareness Month and the San Pedro National Drug Abuse Control Council (NDACC) is holding various seminars and workshops throughout the month to engage the public in health forums on why one should "Not Smoke." The month culminates on Thursday, May 31st which is designated as World No Tobacco Day 2012. The day is being observed under the theme "Tobacco Industry Interference". The campaign focuses on "the need to expose and counter the tobacco industry's brazen and increasingly aggressive attempts to undermine the World Health Organization's Framework Convention on Tobacco Control (WHO FCTC) because of the serious danger they pose to public health."
Studies have shown that tobacco use is one of the leading preventable causes of death. The global tobacco epidemic kills nearly 6 million people each year, of which more than 600,000 are people exposed to second and third-hand smoke. Second-hand smoke is a mixture of two forms of smoke, the smoke that comes from the burning tobacco and the smoke that is exhaled by the smoker. Smoke from burning tobacco has higher concentrations of cancer-causing agents (carcinogens) than the smoke exhaled from the smoker. Third-hand smoke is described as the gases and small particles in cigarette smoke that are deposited on every surface they come in contact with. From the smoker's hair and clothing, to the environment the cigarette was smoked in, these toxic particles remain long after the cigarette has been put out and any second-hand smoke has been removed from the area. Third-hand smoke presents a serious health risk for young children who may crawl on contaminated surfaces and ingest toxins via hand-to-mouth.
Christina Romero, NDACC District Coordinator for Belize Rural South commented, "Cigarettes contain substances such as rat poison; Formaldehyde which is the embalming fluid used in dead people; Tar used for the paving of roads; Ammonia which is commonly used as a toilet bowl cleanser; Nail polish remover and Vinegar. All these chemicals contribute to the various types of cancer. Smoking doesn't only cause lung cancer. You can have cancer of the esophagus, mouth, lip, ladder, pancreas and stomach. Second hand smoking of course, is worse; exhaled toxins mix with other variables in the air, doubling the effect on the second person. Third hand smoke is however, the worst. This is the smoke that stays in our clothes. If we're smoking inside an enclosed area, the smoke that stays on the fabric and curtains, beds, sofas. This smoke ferments in this fabrics and are a constant and does lots of damage."
Throughout the month of May, NDACC San Pedro has organized visits to the different schools, offering Education and Awareness on the effects of smoking cigarettes and chewing tobacco. NDACC also offers the services of an Outreach Case Worker in cases where individuals feel they might have an addiction.
On Wednesday May 23rd, along with representatives from the Ministry of Education, Ms. Romero presented at a workshop geared to parents of pre-school children. The workshop was to make parents more aware of the various drugs and their effects that exist on the island. Further to this, the workshop also encouraged positive discipline, basically teaching parents how to foster better relationships with their children.
In observance of World No Tobacco Day on May 31st, NDACC has teamed up with the San Pedro Town Council to organize an Anti Tobacco Walk. In ending Ms Romero stated, "Tobacco is an issue on the island. An even bigger one as no one sees it as a drug. In this effect, it's a slow killer. Cigarettes hurt your organs inside. There are consequences to smoking – whether you smoke one a day or ten a day it catches up to you. For a regular smoker (someone who smokes at least one a day), it steals 14 years off your life."
The walk is scheduled to commence at the Central Park at 6PM with an opening speech being offered by Mayor Danny Guerrero. The walk will take participants through the main streets of the island and is being held to encourage awareness of the dangers of smoking or chewing tobacco. NDACC and the San Pedro Town Council take this opportunity to invite the general public to come out and show support. For more information on services offered by NDACC San Pedro, call 227-0528 or 660-0029.
Follow The San Pedro Sun News on Twitter, become a fan on Facebook. Stay updated via RSS