San Pedro Poly Clinic receives donation of Mobile Defibrillator
Thursday, November 22nd, 2012
The emergency cart at the Dr. Otto Rodriguez San Pedro PolyClinc II now has the addition of a brand new Mobile Emergency Defibrillator. The donation came as a result of fund raisers in the form of weekly "Poker Runs" held just north of San Pedro and organized by Alexandra Nicholson of Kama Lounge.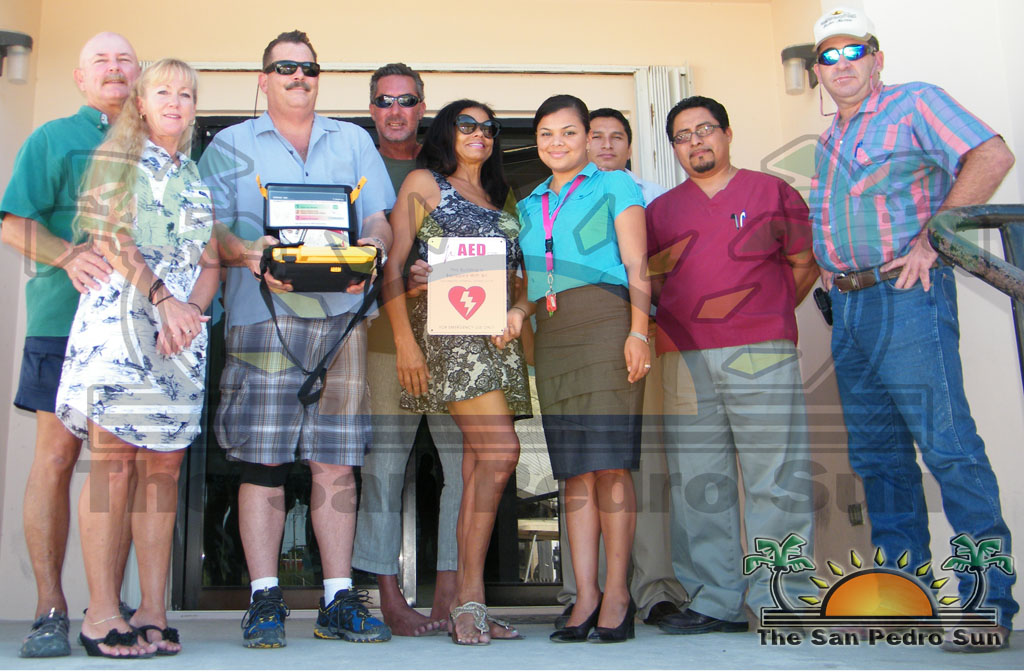 On hand to receive the donation were Mr. Owen Vellos, administrator of the Dr. Otto Rodriguez San Pedro PolyClinic II, Dr. Javier Zuniga, Dr. Noeli Nicholson and Dr. Laurenzco Nicholson . The presentation of the new defibrillator took place at the clinic on Tuesday, November 20th at 2PM and was awarded by the group of individuals instrumental in donating it.
Presenting the donation were Ernie Olmstead of Captain Morgan's Resort and Casino, Alexandra Nicholson and Dave Hauttli of Kama Lounge, Scott and Jodi from Palapa Bar and Doug from Cowboy Doug's at Grand Caribe.

The donation has an estimated value of Bze$5,000. According to Olmstead, the funds were raised over a three-month period of "Poker Runs". The runs, generally starting at Kama Lounge would include some twenty or more participants in a procession north bound to Palapa Bar, Capricorn, Cowboy Doug's and ending at Captain Morgan's Casino. At each stop, participants received one card along with a complimentary drink and snacks. At Captain Morgan's Casino the last card was issued and the winner was named. From the proceeds of the Poker Run, 30% went towards the funding of the defibrillator for the PolyClinic and 70% went to the winning pot. In speaking of the fund raisers, Olmstead stated, "It was just a way to have fun, see the island and raise money for the PolyClinic."
Dr. Laurenzco Nicholson, full time Medical Officer at the Dr. Otto Rodriguez San Pedro PolyClinic II, who provides emergency medical care, outpatient care as well as maternal and child health services, was very happy for the new addition to their medical facility. "The new defibrillator that we got is a great addition to the services that we have. It aids in emergency health care. We do have an old defibrillator on site but a portable one was very necessary and that's exactly what we got. The good thing about the new defibrillator we got is that it's portable. This will be very useful in any acute coronary events, especially heart attacks and such. In any case where there's cardiac arrest."
The defibrillator comes with a rechargeable battery which according to Dr. Nicholson is a key aspect of the piece of equipment. Special mention must be made of Cholo's Rentals who provided golf carts at a discounted rate for participants during the Poker Runs. The staff at the PolyClinic is eternally grateful for the donation and assures all that contributed that the defibrillator will certainly be put of use in the emergency health care system.
Follow The San Pedro Sun News on Twitter, become a fan on Facebook. Stay updated via RSS