Bovine Tuberculosis confirmed in one Cattle Farm
Tuesday, February 18th, 2014
Belmopan, 14th February, 2014.

The Belize Agricultural Health Authority (BAHA) has further strengthened its standard disease control measures upon receiving confirmation from the Central Regional Laboratory in Merida that cattle specimens submitted for routine testing have tested positive for Bovine Tuberculosis on bacteriological culture. Through the Belize National Sanitary Cattle Plan Project (BNSCPP), the Belize Agricultural Health Authority has been methodically identifying cattle farms and cattle, testing all cattle for Bovine Tuberculosis and Bovine Brucellosis, and implementing movement controls. The testing of 90,000 cattle has given negative results for these diseases
except for one positive case that is being reported. This is not the first time that Bovine Tuberculosis is being reported in Belize. The last outbreak occurred in 1991.
BAHA is implementing procedures as outlined in Statutory Instrument 51/2012 for the management of cattle and farm infected with Bovine Tuberculosis. The Ministry of Health is also applying standard public health measures.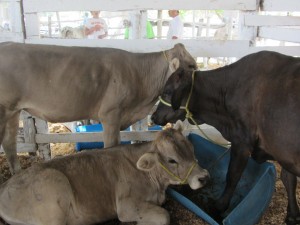 BAHA is confident that Belize can, through the BNSCPP, declare itself as free of Bovine Tuberculosis or as country with low prevalence of Bovine Tuberculosis. The current detection of one infected farm does not affect this status. However, cattle
producers need to assume their responsibility of having their farms registered, their cattle identified and obtaining the movement permits for any movement of cattle out of their farms.
Given the effective application of statutory instrument 51/2012, the coordinated response with the Ministry of Health and other relevant institutions, meetings with the Belize Livestock Producers' Association and cattle farmers and the ongoing BNSCPP activities of testing and movement controls, the Bovine Tuberculosis outbreak is considered contained and the risk to animals and humans is insignificant.
Further information can be obtained by calling the BAHA helpline 605-2100 or 824-4899.
Follow The San Pedro Sun News on Twitter, become a fan on Facebook. Stay updated via RSS