Tuk-tuks declared useless for medical transportation in San Pedro
Saturday, April 18th, 2015
Authorities at the Dr Otto Rodriguez San Pedro PolyClinic II have declared that the two medical support vehicles commonly referred to as tuk-tuks, are unfit for transporting people during an emergency. The tuk-tuks were handed over to the clinic on July 25, 2014, as part of a wider donation from the government of Dubai, United Emirates. Because the medical support vehicles are useless for medical transportation, plans are being made to retrofit them into light cargo vehicles.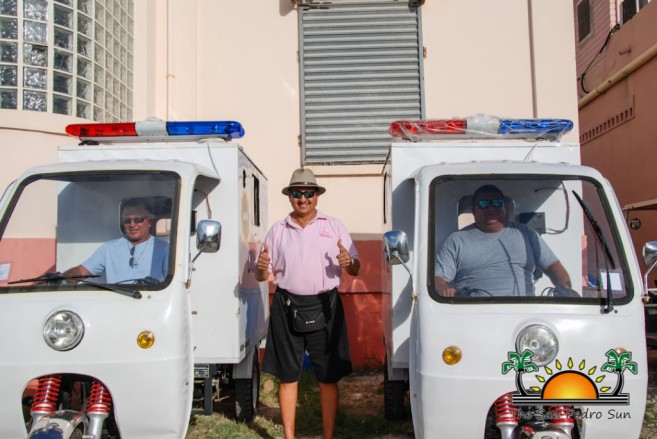 Since the tuk tuks have been used only twice and because they are unfit for medical use due to the roads on the island, they have been parked at the San Pedro Town Council barracks turning to rust. "We have decided not to use them because they are very flimsy and with the kind of streets on the island, we have recommended not to use them to transport medical patients. We need to have patients as stable as possible," commented Owen Vellos, Administrator of the Dr Otto Rodriguez San Pedro PolyClinic II.
Dr Javier Zuniga, who oversees all policlinics in the Belize District, also agreed that indeed the tuk-tuks are "unfit" to transport patients. He indicated that the clinic has identified other uses for the vehicles and they will be retrofitted to serve as cargo transportation for the clinic.
At the handing over ceremony last year, both Area Representative Manuel Heredia Jr. and Mayor Daniel Guerrero, took it as a political opportunity to indicate that the donation was a result of "successful negotiations" lead by Heredia himself. However, with the tuk-tuks declared "unfit" for medical use, it leaves the island's clinic back to square one – without medical transportation for emergency service.
A few months ago, Alex Parrmelee, an American certified paramedic living on Ambergris Caye, imported an ambulance to the island with the intention to provide the much needed service to the islanders. Zuniga stated that plans are being made by the Ministry of Health to secure the service of Parmelee.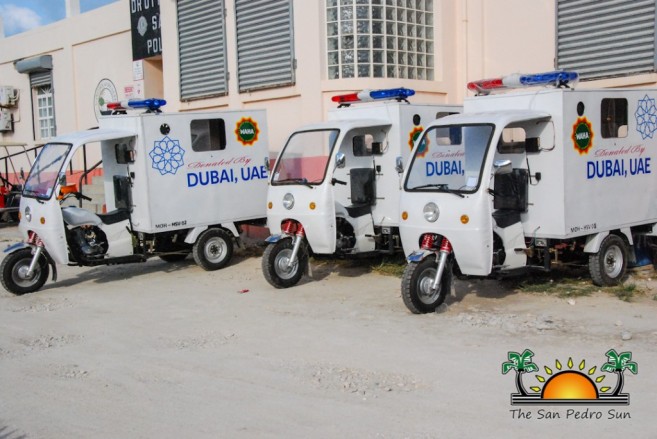 According to Zuniga, the ambulance imported by Parmelee has been certified as fit for medical transportation. "The Ministry of Health has been working with the Belize Emergency Response Team (BERT) and the ambulance has been certified fit for use. We are currently working on Parmelee's legal documents to allow him to work in Belize," indicated Zuniga.
The plan is that once Parmelee's legal work documents are sorted out, the Ministry of Health will have his paramedic certification accredited and certified by authorities in Belize. Once that is done, he will be given a stipend to provide the medical transportation service free of charge to the residents on the island.
It is uncertain how long that bureaucratic process will take.
Follow The San Pedro Sun News on Twitter, become a fan on Facebook. Stay updated via RSS