How safe is our bottled water?
Monday, May 11th, 2015
The average person needs around eight glasses of potable water a day. In San Pedro, like on many other islands, the best way to obtain this vital liquid in a safe manner for consumption is by buying bottled water. One of the main suppliers of bottled drinking water on the island is Bowen & Bowen, which distributes Cystal water. Consumers depend on water companies to provide clean and safe drinking water; hence the discovery of particles in several bottles is cause for concern.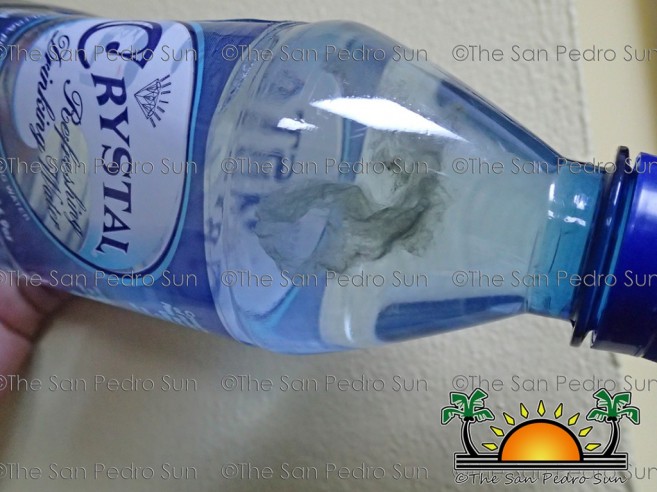 It came to The San Pedro Sun's attention that a local establishment had discovered what appeared to be black viscous matter floating in the 16oz containers of Crystal water. The company regularly purchases bottles of water by the case, as many as 10 cases a month, and they informed us they had discovered as many as 30 contaminated bottles. Two samples were shown to our reporters, and it was hard not to notice the floating particles. One particular bottle that was frozen showed a visible core of dirt in the frozen water.
Hilberto Swasey, sales representative from the Belize headquarters emphasized on the seriousness of the issue since many of their customers can be affected and their trust in the company can be jeopardized."We are a company known for providing great quality of products, especially water. In cases like this we normally send a sales representative or the manager of the area to document the findings, then the water bottles are sent to the lab, where we do a series of tests and determine what went wrong and what is in the water."
Mr. Swasey also took the opportunity to apologize to the general public and ensures that Bowen & Bowen takes the adequate procedures to ensure the best quality in their products.
When contacted Health Inspector, Lisa Tillet indicated that she was aware of the problem, and was waiting for the Ministry of Health lab results. When those results are in, an inspection will take place at the processing plant in Ladyville in order to determine the possible causes and put in place measures to ensure it does not happen again.
Follow The San Pedro Sun News on Twitter, become a fan on Facebook. Stay updated via RSS