Horris Patten is the new Health Inspector for San Pedro
Friday, August 28th, 2015
Horris Patten is the new Health Inspector, who will be in charge of Ambergris Caye and Caye Caulker. As of Wednesday, August 5th, the senior public health officer took over the position that was held by health inspector Lisa Tillett, who has now been assign to Belize City. Patten is a native of the Corozal District and is excited to be on the island. He looks forward to work together with the San Pedro residents in order to reach out to everyone and assist them in their health issues.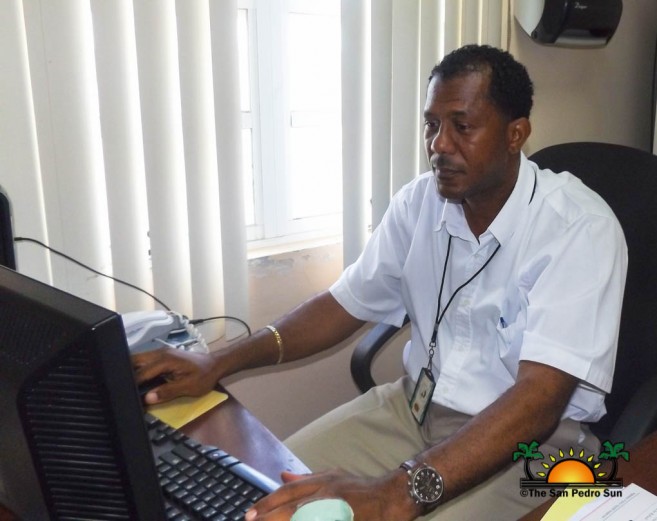 Prior to his assignment to the island, Patten was stationed in Belize City at the Health Region Centre as a health inspector. He has been in the Ministry of Health since 2002. Patten has a degree in Environmental Health from the University of Belize (UB) as well as a degree in Applied Science in Building and Civil Engineering, however, his background is in public health only. "I have been on the island for a little bit over two weeks and I have been introducing myself to the general public so I can become acquainted with their health issues. This to me is a new challenge, but I am here happily taking it on. I am here to carry out the mission statement for public health: to prevent disease in order to prolong human life," said Patten.
During his time in the islands, Patten will implement different programs within the community which will stress healthy livig. "First of all, we need the public's participation, this is very important since when it comes to health we need to engage with the community a lot. In my portfolio, the investigation of commutable diseases is a must as well the investigation of public health complaints. In San Pedro my department is in charge of food safety and from time to time we will conduct private and food premise inspections at the different food establishments to ensure that the food being prepared is safe and the people who are consuming it are not exposed to any illnesses by food not being prepared in a clean way. I will also be overseen anything that has to do with vector diseases which is the Malaria program and with the recent Dengue outbreaks in other parts of the country, we will be monitoring for any signs of any vector illness," elaborated Patten.
Patten also touched on the safety of the water residents consume on the island. "The quality of drinking water is very crucial and we will be ensuring that the general public receives safe water. We have a monitoring program even though Belize Water Services provides safe water we conduct checks on their water as well, such as the chlorine levels in the water and collect water samples on a weekly or monthly basis all this just to make sure that the water is safe." Patten continued by stating that checks are done on the water bottling company on the island in order to enhance the good quality of their water.
He added that another of his responsibilities is to conduct border entry (port) health inspections and monitoring diseases connected to stray dogs. "There is a boat that comes to the island from Chetumal, Mexico on a daily basis and proper checks need to be made at the port in order to avoid any commutable disease. Speaking about diseases we also have a rabies program to ensure that the virus is not transmitted to humans by dog bites. We investigate all dog bites that are reported to us to ensure that the dog did not have rabies and the victim is not in danger," said Patten. He also encouraged all dog owners to make sure their dogs are check regularly and have their latest vaccines. All pets should be secured inside a fenced area so there are no incidents between dogs and anybody who may be walking by.
This new venture in the public health environment will also have Patten in charge of the food safety program on the island. "Before a person obtains food handlers permit, the person must attend training at the public health department where we educate the general public on food safety. To add to this we will also conduct health education when it comes to hazardous elements that can contaminate food. For example there is acute pesticide intoxication and we emphasize to the general public that if they are not train in handling pesticides or insecticides, then they should stay away from these products. The same way people get train to get their food handlers permits they also need to get train in handling these poisonous substances," Patten ended.
Besides ensuring the safety in food, water and general health, the department also works along with the Belize National Emergency Management Organization (NEMO) playing a key role when it comes to disaster preparedness. In view of the ongoing rainy season it is recommended that everyone keep their yards clean so as to avoid any breeding ground for mosquitoes which can cause vector diseases such as Dengue which has caused an alarming number of confirmed cases in other parts of the country.
Patten encourages everyone to work together and cooperate with him as he strives to promote the importance of being safe and healthy. In the coming days Patten will be conducting inspections in different establishments to evaluate the quality of their food products.
The San Pedro Sun welcomes Health Inspector Horris Patten and wishes him the best in his endeavors while on the island.
Follow The San Pedro Sun News on Twitter, become a fan on Facebook. Stay updated via RSS