Customs delay installation of EKG machine at the Polyclinic
Saturday, June 11th, 2016
In August 2015 Blue Water Grill donated funds intended for the acquisition of a new Electrocardiogram (EKG) machine for the San Pedro Dr. Otto Rodriguez Polyclinic II. However, other urgent clinic essentials took priority, and spirometers, pulse oximeters and thermometers among other necessary supplies were donated instead.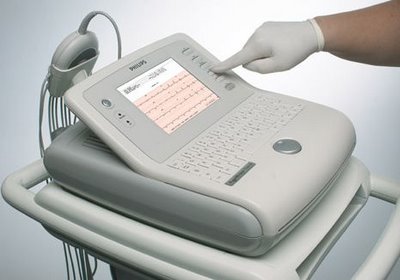 During the month of March 2016, BWG, The Phoenix and Canary Cove raised $8,920 to purchase the EKG machine for the Polyclinic; however, the polyclinic is still awaiting their machine. Owen Vellos, administrator at the polyclinic, confirmed that the clinic has not received it, and that it is still in Belize City waiting to be cleared from the Customs Department.
Co-owner of BWG, Kelly McDermott Kanabar is trying to determine where the hold up is. "We ordered and paid for the machine in April. It arrived in Belize City in early May, and the Ministry of Health was to make arrangements to get the machine installed in San Pedro," said Kanabar. BWG mentioned that the Customs Department has been reluctant to clear the machine because it is unsure whether or not they should charge duty. Considering that the machine is for medical purposes, and a donation to the polyclinic, duty should not be charged.
The San Pedro Sun made a phone call to the Belize Customs and Excise Department, where Victor Tillet stated that the head of the customs department does not have any information in regards to the machine. "I wouldn't know about that. They (BWG) will need to notify their shipping agents, as well as their customs brokers about their situation," said Tillet.
Speaking on behalf of Vellos, Marion Jones of the San Pedro Dr. Otto Rodriguez Polyclinic II talked about the delay of the much-needed machine. "We know we are supposed to get an EKG machine, but we have not received any word that it has reached, or if it will be donated," said Jones.
The EKG machine is critical to patients who suffer heart-related problems. "With it, we can screen patients for heart problems, and can monitor heart rhythms. Those who are having a heart attack, cardiac attack, or palpitations can be screened," said Jones.
Regardless of the delay, the polyclinic is grateful to BWG, The Phoenix, and Canary Coves for raising funds for the equipment. Once the EKG machine is cleared by customs and delivered to the polyclinic, there are plans for an official handing over ceremony to inaugurate the machine.
Follow The San Pedro Sun News on Twitter, become a fan on Facebook. Stay updated via RSS