GOB and BERT reach emergency service agreement
Thursday, September 8th, 2016
After threatening to shut down its services, the Belize Emergency Response Team (BERT) has finally agreed to continue operating in the Belize District following an agreement with the Government of Belize(GOB). As a result, GOB through the Ministry of Health (MOH), has agreed to grant BERT $45,000 per month for the next six months, while the two organizations continue negotiating long-term financial sustainability.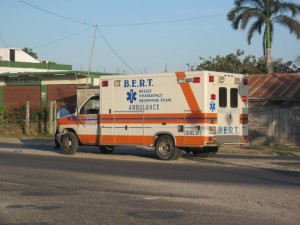 According to an announcement by BERT, they indicated that as of September 1st they would be pulling out their land ambulance operations in the Belize District. This has been the result of an issue between the MOH and BERT which flared two years ago, when several of BERT's emergency medical technicians left the service for better opportunities with the Government. The organization lobbied GOB for additional funding in order to keep operating. However, a series of misunderstandings with the Government almost led to a halt of the services, which would have compromised emergency medical services to the district.
MOH and BERT negotiated for quite some time in an effort to avoid a crisis. The initial negotiations were positive, and as the two parties continue negotiating, they are scheduled to meet again on Monday, September 13th, to finalize details. According to BERT Financial Operations Manager, Andre Carillo, the Government's commitment has been so encouraging that they will help cover BERT's operational costs and cover salaries for the current staff and any incoming ones. "In the meantime, BERT will continue to provide uninterrupted ambulance services," said Carillo.
A key member in the initial success of the negotiations is Director of Health Services, Dr. Marvin Manzanero. He stated that when BERT had parked the ambulances in front of the Central Health Region, he quickly intervened by helping in the negotiation process. "We have reached an agreement, their subvention will be increased, and they will now be able to bill the Government for services beyond the subvention," said Manzanero. He added that the other option was to stop the subvention and bill MOH for every service, a cost that comes close to $45,000.
MOH hopes that negotiations will result in a permanent solution which will sustain the management and essential services provided by BERT. BERT's doors remain open, ensuring that ambulances and other primary care services are available.
Follow The San Pedro Sun News on Twitter, become a fan on Facebook. Stay updated via RSS