GoFundMe campaign launched to help Caye Caulker lionfish crafter
Friday, June 30th, 2017
Family and friends of Caye Caulker resident and lionfish crafter, Dianny Enriquez, are kindly asking the general public for donations to assist with her medical bills. On Wednesday, June 21st, Enriquez suffered a stroke, which left the right side of her body paralyzed, and prompted the urgent need for brain surgery.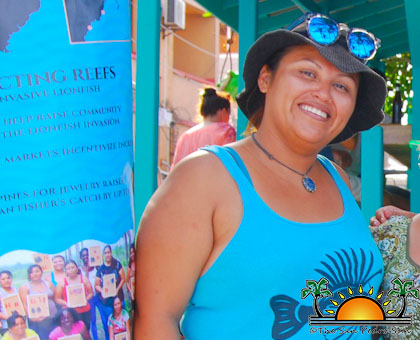 Due to her overwhelming medical expenses, several fundraisers have been organized, along with donation drives. Enriquez has established her livelihood on handcrafting intricate pieces of jewelry, using lionfish fins, tails, and spines. Lionfish are an invasive species that threatens 56 species of fish and many invertebrate species up to half its body size.
She is a member of Belioness, which involves 19 women across Belize that make lionfish jewelry, and has represented Caye Caulker in the USA and Bahamas. She is also an active member of the Belize Tourism and Industry Association, Caye Caulker Chapter, which has allowed her to become a strong advocate in raising awareness on the invasive species. Her son, Tony, has been her primary source of inspiration for her to continue her love and passion for preserving the Belize Barrier Reef.
After undergoing surgery for her stroke, Enriquez remains in Chetumal, Quintana Roo, Mexico. As the devastating effects of her stroke are not completely known, it is too early to say what the stage of her condition is. Since it will be a long recovery period, family and friends fear that her medical expenses will start to accumulate, as procedures and therapy are done to help reverse the effects of her stroke. Her family hopes they can alleviate the medical expenses, with donations so they can focus on her recovery, and get her home as soon as possible to her son.
In an effort to raise funds, a close friend stated that she was motivated to create a GoFundMe page. "I met Dianny 12 years ago while travelling to Belize, and have kept in contact with her and visited many times over the years. Although I cannot be there to visit and help my friend, I wanted to contribute by creating this site to help my friend and her family," she said.
If you would like to make a donation, please visit www.gofundme.com/diannys-medical-and-healthcare or contact 602-9001. Any monetary donation to her medical expenses would greatly be appreciated.
Follow The San Pedro Sun News on Twitter, become a fan on Facebook. Stay updated via RSS