Pink eye epidemic results in medication shortage on Ambergris Caye
Wednesday, October 4th, 2017
The number of cases of Conjunctivitis, or 'pink eye,' across Ambergris Caye has led to a medication shortage. The contagious virus is an inflammation or swelling of the conjunctiva which causes irritation and reddening of the eyes. To treat the symptoms doctors are prescribing special eye drops and creams that are now in short supply.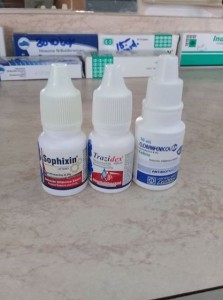 While medication is limited on the island, Dr. Salim from the Dr. Otto Rodriguez San Pedro Polyclinic II says the number of people needing treatment has been decreasing. "We had hundreds of patients per day, it's down to like 50 patients per day". The polyclinic confirmed that they were out of medication for a while, but it is now available for patients.
Pharmacists on the island are also reporting that they are out of medication, but efforts to provide more are underway. The most prescribed treatment is Ibuprofen for the pain and discomfort, and Chloramphenicol eye drops to prevent a superimposed bacterium. Signs of pink eye include redness of the eye, grainy eyes, itching of eyes, thick yellow discharge that crusts over the eyelashes, especially after sleep.
Ways to prevent this contagious virus include the proper washing of hands, avoid touching the eyes, using contact lenses or sharing personal items like makeup, brushes, and pillows. The Ministry Of Health advises that any person that is showing signs of pink eye seek medical attention and to stay at home until their symptoms subside.
Follow The San Pedro Sun News on Twitter, become a fan on Facebook. Stay updated via RSS