Mar de Tumbo Flu Clinic could face financial difficulties meeting its over $2k monthly rent bill
Tuesday, November 24th, 2020
The Mar de Tumbo Flu Clinic remains closed after heavy rainfall left its premises inundated and unsafe for the medical staff and patients. The flu clinic, located on private property south of downtown San Pedro, is expected to open as soon as the water recedes/dries out and the area becomes suitable again. But the fate of the much-needed medical facility addressing COVID-19 is uncertain due to financial restraints. The lease to continue using the property expires in December, and currently, the monthly rent is $2,500.  Financial aid will need to come from either the newly elected government or the private sector to keep the clinic open.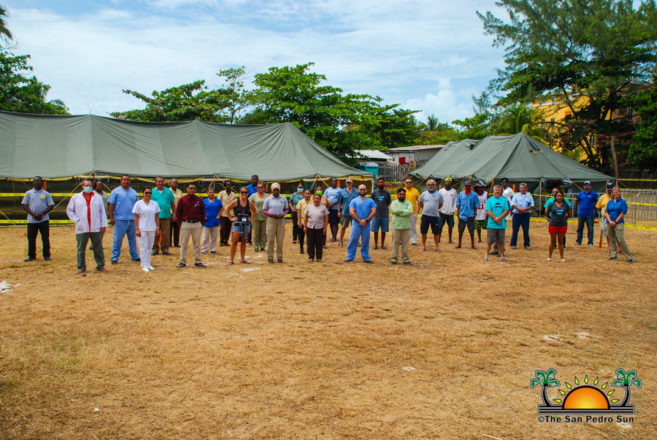 The clinic was established in March of this year after COVID-19 arrived in Belize, and the island registered its first positive cases. The clinic was intended to be a temporary medical centre for patients with the virus and anyone needing intensive care and placed under observation. With the business community and volunteers' effort, the abandoned building's inactive property was turned into the Mar de Tumbo Flu Clinic, where patients with flu-symptoms could go instead of visiting the Dr. Otto Rodriguez San Pedro Polyclinic II. The vacant building was fully refurbished and equipped with an isolation unit, a flu clinic, a pharmacy, and a temporary isolation area, now serving as a 30-bed facility.
No rent fee was initially charged
In speaking with the property owner, no rent was initially charged when the centre was established in March because improvements to the property were for a good cause. However, as it became apparent that the pandemic was here for an extended time, the temporary flu clinic evolved into a long-term project. After some time with no rental fee, the landlord eventually reached an agreement with the medical authorities, and $2,500 in rent is paid monthly.
Property owner willing to work with health authorities regarding the use of property
The landlord confirmed that the lease expires in December but is unaware of plans regarding the property by authorities from the Ministry of Health. He is aware of the issues with finances and is willing to work along with them. He looks forward to sitting down with the respective parties and discussing plans/propositions regarding the property's use in 2021.
Newly elected Area Representative Honourable Andre Perez is expected to lobby Central Government for assistance. According to reports, the previous government did not support the flu clinic financially. If this situation remains the same, the other option is to fund the clinic's services by reaching out to the private sector for donations.
In the meantime, patients with flu-like symptoms can visit the Dr. Otto Rodriguez San Pedro Polyclinic II on Manta Ray Street. The services at the Mar de Tumbo flu clinic are expected to resume next week or when the floodwaters dry out.
Follow The San Pedro Sun News on Twitter, become a fan on Facebook. Stay updated via RSS