PAHO/WHO donates a total of three (3) patient ventilators to the Karl Heusner Memorial Hospital Authority (KHMHA) for the COVID-19 response
Monday, December 7th, 2020
The Pan American Health Organization/World Health Organization (PAHO/WHO) donated a total of three (3) patient ventilators, including accessories to the Karl Heusner Memorial Hospital Authority (KHMHA) to assist in the care and management of persons who have been diagnosed with COVID-19, especially in severe case situations.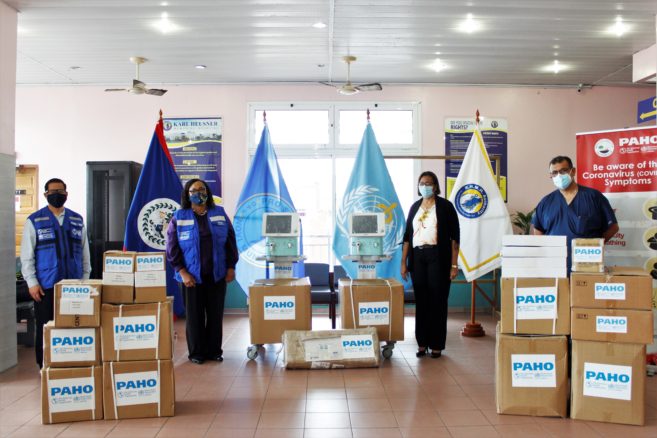 In the October 23, 2020 press release, PAHO/WHO referenced the first ventilator being donated to KHMHA through funds received from Germany. Today, PAHO/WHO Representative of Belize, Dr. Noreen Jack, handed over two (2) additional patient ventilators, also purchased from the Germany funds, to the Chief Executive Officer of KHMHA, Ms. Michelle Hoare.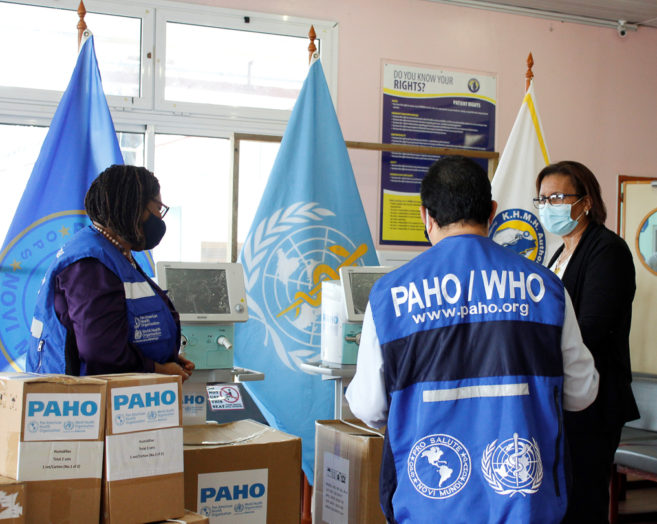 "Technical support provided by PAHO has been useful in allowing KHMHA to maintain optimal quality and responsiveness to the current COVID-19 demands," said Ms. Hoare. "The selection of critical care equipment has been done in a participatory manner where the organizational readiness and capacity have at all times been considered before donations are procured and handed over. The quality of the equipment has been paramount in the selection process."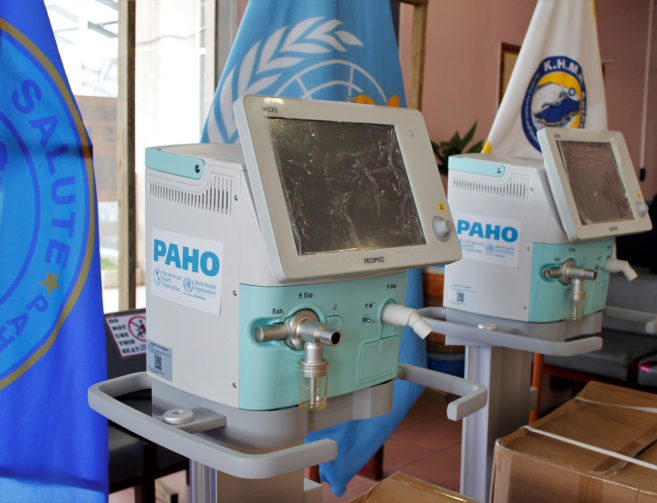 With the donation from PAHO/WHO, KHMHA now has 19 functional patient ventilators to assist with the timely management of COVID-19 confirmed and suspected cases in the event it is needed. PAHO/WHO Belize, working together with partners, continues to provide technical guidance, capacity building, and the procurement of essential equipment to the Ministry of Health and the country.
About PAHO/WHO
The Pan American Health Organization (PAHO) works with the countries of the Americas to improve the health and quality of life of its population. Founded in 1902, it is the world's oldest international public health agency. It serves as the Regional Office of WHO for the Americas and is the specialized health agency of the Inter-American system. For further information, please contact Pete Castillo, PAHO/WHO IT/Communications at [email protected] or Zenena Moguel, PAHO/WHO Communications Consultant at [email protected] or visit paho.org/en/belize.  
IMPORTANT: This transmission is for use by the intended recipient and it may contain privileged, proprietary or confidential information. If you are not the intended recipient or a person responsible for delivering this transmission to the intended recipient, you may not disclose, copy or distribute this transmission or take any action in reliance on it. If you received this transmission in error, please dispose of and delete this transmission. Thank you.
Follow The San Pedro Sun News on Twitter, become a fan on Facebook. Stay updated via RSS