Belize's Modified COVID-19 Quarantine Regulations to start February 1st
Friday, January 29th, 2021
On Friday, January 29th, several precautionary regulations to prevent the spread of the COVID-19 virus were amended following a virtual address by the Ministry of Health and Wellness and Home Affairs and New Growth Industries. Modifications were made to the existing curfew, sales of alcohol, the operation of gymnasiums, food vending, and the opening of churches. The new amendments will take effect on February 1st and will last for 30 days. A new ticketing system to penalize anyone breaching the rules will also be implemented.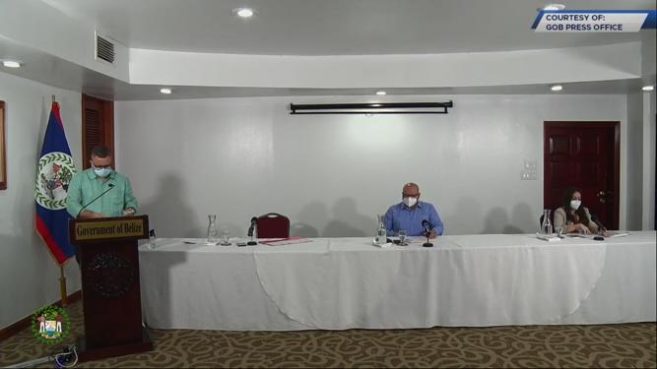 After a brief introduction by the Minister of Health and Wellness, the Honourable Michel Chebat, the Honourable Kareem Musa from the Ministry of Home Affairs listed the changes in regulations. Curfew for adults now begins at 10PM (instead of 8PM) until 5AM, while it remains 6PM to 5AM for children. Children are only allowed to be out past 6PM when parents are heading home from work and need to pick them up from a daycare service/babysitter.
Food vendors will no longer be required to operate on private property as previously required. The vendors are asked to encourage social distancing and to diligently sanitized their areas of work.
Gymnasiums will be allowed to open at a 50% capacity, and appointments are required for users. The facility regulations include proper ventilation and equipment sanitization after each use. Also, gym operators are responsible for keeping a log of users' body temperature and contact information.
The sales of liquor in restaurants and shops have been extended to 10PM. However, shops should adhere to their liquor licenses, which in most cases states that they can only sell alcohol until 9PM. Another relaxation in the regulations is that churches may open at 50% capacity and services are not to exceed one hour.
Ticketing system for SI violations to come into effect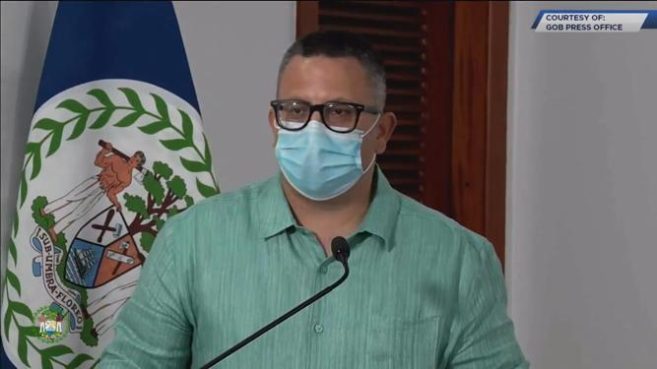 Musa explained that every person issued with a violation ticket will pay a fine of $500. This fine needs to be paid within 15 calendar days from the moment issued. Musa said that the penalty would increase by $10 for every day that it remains unpaid after the due date. "If the fine stated on the violation ticket remains unpaid for a period of 30 calendar days from the date of issue, the ticket shall automatically begin to operate as a summons," he explained. The ticket can be challenged in court if the individual believes the ticket was issued unjustifiably.
The Corozal and Orange Walk Districts RESTRICTION on Cross-District/ Inter/Outer-District Movement will be lifted. Non-essential movement within these districts was restricted after a spike of COVID-19 cases at the end of last year.
No gatherings
There are still limits of no more than ten people at private gatherings. Households may have visitors, if the number of persons at home at any one time does not exceed ten. All illegal congregations exceeding this number or parties can be reported to the newly installed hotline: 0-800-PARTIES or 0-800-727-8432 for both BTL and Smart users. Contact sports like football or basketball remain prohibited.
Some businesses to remain closed, other businesses are conditional
As has been the case for months, bars, nightclubs, and gaming establishments remain closed. Non-essential businesses should put their employees on a shift system, and non-essential workers are expected to work from home. Essential services are considered those under health, tourism, banking, law enforcement, agriculture, and food.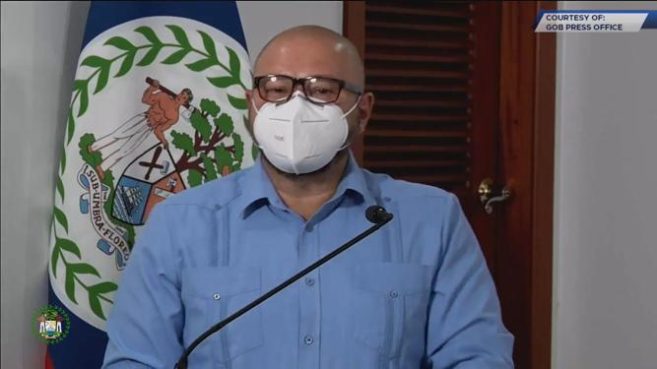 Minister Chebat acknowledged that COVID-19 cases have significantly decreased, but urged Belizeans not to let down their guard against the killer virus. The Ministry of Health and Wellness informs the public of its upcoming Vaccine Education Campaign as well as its Expanded Rapid Testing Campaign in efforts to reach out to high-risk institutions and businesses. The Ministry's officials will be conducting door-to-door rapid testing and emphasizing COVID-19 prevention measures.
Chebat appealed to all Belizeans to continue practicing mаѕk-wеаrіng, proper handwashing and ѕосіаl dіѕtаnсіng. Regarding the vaccine through the COVAX facility, the government expects to receive the country's first doses between March and April of this year. Chebat noted that Belize is not only relying on COVAX but has also entered bilateral discussions to access other sources of the vaccine.
Follow The San Pedro Sun News on Twitter, become a fan on Facebook. Stay updated via RSS