Over 700 vaccinated in San Pedro; registered people urged to show up for their appointment
Tuesday, March 23rd, 2021
The number of persons vaccinated against COVID-19 in San Pedro Town exceeds 700, with more people expected to receive the jab this week. As the rollout moves to phase 2A/B, the Oxford-AstraZeneca vaccine is now available to police officers and teachers. However, those persons 60+ (Phase 1) who are yet to register are asked to continue doing so through this form https://bit.ly/3bHObe9. Registrants are requested not to miss their appointment as a no-show will result in the vaccine given to someone else, and the absentee will have to re-schedule.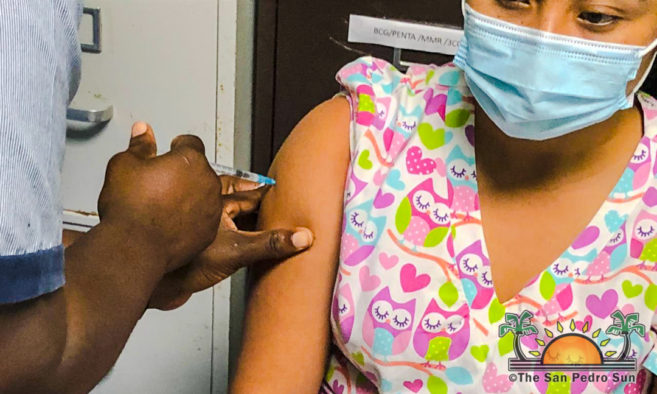 According to Dr. Joshua A. Canul from the Dr. Otto Rodriguez San Pedro Polyclinic II, this is the reason why some people falling under a different phase receive a vaccine when the scheduled recipient does not show up. Dr. Canul says that once a vile of the vaccine is open, it must be administered or go to waste.
Minor side effects reported after vaccination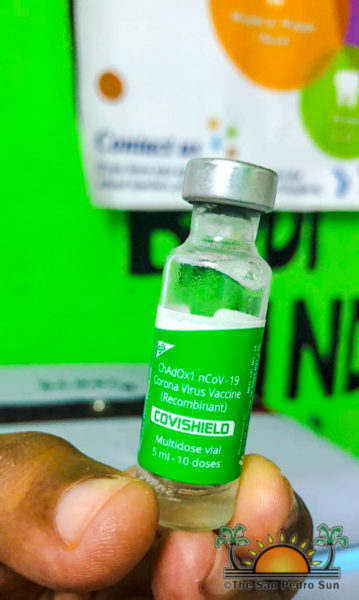 While there have been no reports of severe side effects after being vaccinated, some people have experienced a few symptoms after the jab. Dr. Canul indicated that people had reported headaches, fever, chills but no significant complications. Islanders are urged to get vaccinated when their time comes and to note that supplies are limited. The vaccine is being administered at the San Pedro Lions Den and at the Mar de Tumbo flu clinic. Those getting the vaccine are asked to bring in an I.D with them.
Of importance is that the vaccine does not prevent getting infected with the COVID-19 virus but better prepares the body to fight the infection, avoiding the severe symptoms that have killed many. It takes three weeks after getting the first dose for the AstraZeneca COVID-19 vaccine to start to work. Results demonstrate vaccine efficacy of 76% after a first dose, with protection maintained to the second dose. With a booster dose 12 weeks later, the vaccine efficacy increases to 82%. It takes 15 days after the second dose to have the best protection.
As of Monday, March 22nd, a total of 16,202 persons have been vaccinated across the country. The Ministry of Health and Wellness commends all Belizeans who have taken the vaccine and reminds them that persons are still required to wear their masks and practice proper handwashing and social distancing after receiving the dose.
Follow The San Pedro Sun News on Twitter, become a fan on Facebook. Stay updated via RSS