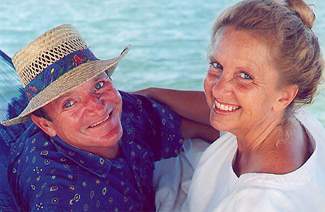 Wil and Susan Lala


San Pedro is all about tourism, therefore there is a great need to preserve our pristine environment. When you think of eco-tourism in San Pedro, the first thing that comes to mind is Caribbean Villas. It is with that in mind that we are pleased to feature in this week's column the owner of Caribbean Villas, Dr. Wil Lala.

Wil Lala was raised on a farm in the countryside of Kansas, USA. He experienced the hard and dirty work associated with farming at an early age and decided this was not what he wanted to do all his life. Instead, he enrolled as a dental student at the University of Nebraska, graduating with honors in 1968. It was during his time in dental school that he met and married his wife Susan. The next two years were spent in the US Navy in the San Francisco area where their daughter Lisa was born. The Lalas then returned to Manhattan, Kansas where Wil practiced dentistry for eighteen years. Wil and Susan Lala had no idea they would ever settle down on a tropical island like Ambergris Caye. It was due to both Dr. Lala's high stress profession and Susan's inability to tolerate cold weather that he joined the Flying Dentists. This association is made up of dentists who are pilots and travel on missions to Central America. Susan enjoyed the warm climates and Dr. Lala enjoyed volunteering his dental services.

Dr. Lala heard of San Pedro on his first trip to Guatemala in 1979. There he met a group of dentists who told him about the San Pedro Lions Clinic. In all their volunteer trips, from Thailand to Paraguay and points in between, San Pedro was the only place they had ever heard of where local people tried to help themselves with medical and dental needs. This attitude impressed Dr. Lala immensely and he flew in to check it out. The Lalas found a paradise in San Pedro. It was everything they enjoyed: warm, laid-back and offered excellent fishing and snorkeling. After returning home they decided to visit the island on a regular basis, soon coming twice a year. When they relocated to San Pedro in 1989 it was basically for two reasons: one, they had fallen in love with the island and two, because of a history of heart disease in Dr. Lala's family. Being the personality type to easily suffer a heart attack, he decided to retire early.

First, they purchased a large piece of beachfront property and decided to build a hotel. Susan, having studied interior design and architecture, stayed in San Pedro to oversee the construction of her design. Dr. Lala wrapped up business back in the US, sold his dental practice and joined Susan permanently in San Pedro. They named their creation Caribbean Villas. Adapting to this new business was fairly easy for Dr. Lala because of his farm background where he had learned to do things on his own. Wil and Susan Lala, both very ecologically minded, opted to build only ten units in a zone that could hold 120 units in order to preserve the wildlife and vegetation of the surrounding areas. Caribbean Villas also uses solar panels to heat water and uses their "gray water" to water the vegetation. Additionally, the hotel boasts a bird sanctuary where Susan, a bird watcher, has identified over 200 species of birds. Another unique attraction is the marine environment they have created at the end of their pier where over 60 species of marine creatures have been identified.

In 1992, Dr. Lala was in a serious plane crash in the United States. Due to the accident he lost the vision in one eye and was paralyzed on one side of his body. The news of Dr. Lala's accident saddened the town of San Pedro where he had made numerous friends. After undergoing lengthy rehabilitation treatments, he regained most of his motion. Subsequently, he had to give up the volunteer work he was doing on a weekly basis in San Pedro. Nevertheless, he still encourages and brings other volunteer medical and dental professionals to Belize. Dr. Lala is an active member of the San Pedro Police/Citizens Advisory Committee, a US Embassy Warden in San Pedro and presently the President of the South End Neighborhood Watch Committee.

The Lala's charming personalities and their concern for the ecology has gained them many guests at Caribbean Villas throughout the years. Their scenic gardens, littoral forests and the overall ambience offered at the hotel has been preferred by visitors. Many have chosen to have their wedding celebrations at Caribbean Villas including their daughter Lisa in 1995.

Caribbean Villas purposely does not have a bar, restaurant or dive shop. Instead, they pick up their guests when they arrive and give them a guided tour of the island to show them the different places to visit during their stay. Consequently they find guests becoming very involved in the community and returning time after time. Dr. Lala says part of why he feels so comfortable in San Pedro is because it reminds him of his life in Kansas; the small town atmosphere, the constant breeze, the dirt streets and everyone is friendly to each other.

Dr. Wil Lala has contributed a lot to San Pedro through his profession and through Caribbean Villas. He is here to serve, to protect and to promote the beauty and friendship unique to "Our Community."

P.S. On a personal note, Happy Anniversary Wil and Susan!