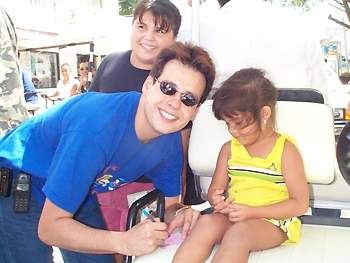 Rodrigo Vidal signs autograph for young fan


A multitude of excited fans gathered at the Maya Island Air Terminal last Sunday to welcome Mexican soap opera star and show conductor Rodrigo Vidal. Rodrigo performs in major acting roles on Mexican television productions such as "Siempre te Amare" and "Dos Mujeres Un Camino." Rodrigo has also made many special appearances co-hosting a comic game show known as "A que no te atreves" with other Latino stars such as Sofia Vergara and Harry Gaynor.

Rodrigo was the official Master of Ceremonies of the Reina de la Costa Pageant held Tuesday. Before the night of the pageant, Rodrigo had time to tour the island and meet with the people of San Pedro. Upon his arrival, after saluting his expectant public, he was given a brief tour of the town. At a special stop at the San Pedro Lions Den to meet the members, Lion President Flora Ancona received a special hug from the star. Rodrigo also joined the Reina de la Costa Maya pageant contestants for dinner at El Patio Restaurant and made visits to other establishments including leisure visits to Barefoot Iguana and the Palace Casino. He also participated in a live interview with Radio Arecife where many of his fans had an opportunity to speak to him. During his stay in La Isla Bonita, Rodrigo was a guest at Victoria House Resort. Rodrigo commented on the wonderful time he had in San Pedro and was impressed by the friendliness of its people. He also mentioned that he hopes to come back to visit La Isla Bonita.