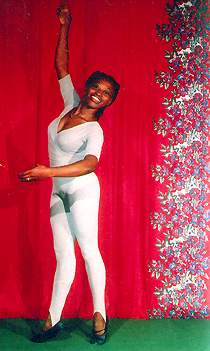 Rosita Baltazar


San Pedro is well-known as a place where the people are festive and enjoy merry-making. This was also true of their ancestors who found much enjoyment in the art of dancing. From the Mestizadas, doble paso or the traditional waltz, dancing brought unity and happiness to the town's people. Carnaval was an especially fun time of the year when the young men and women showed off their best dance moves during the "comparsas". With the growth of the island also came new influences of all aspects, including new dances. The natural ability of the islanders has come together in the formation of many dance groups and their techniques have been polished by many great teachers. Names like Rommie Taegar, Rene Ozaeta, Deni Eiley and Velie Paz Williams are only a few of the talented people who have shared their dancing skills with other young women and men of outstanding dance groups in San Pedro. One of the most celebrated groups of their time was the Sunshine Girls, who graciously represented the island in national dance competitions and functions. Today, San Pedro prides itself with two of the finest dance groups worthy of both national and international recognition. However, the success on stage for these young artists lies in the hands of their teachers, who carefully coach and mold them into graceful performers. This week we are pleased to introduce the dance instructor and choreographer of the San Pedro Dance Company - Miss Rosita Baltazar.

Born in Livingston, Guatemala, Rosita was raised in a rich Garifuna culture, which she says motivated her to pursue a dancing career. As a young child she was drawn to the performing arts and soon became the center of attention in class performances and Christmas pageants. A natural on stage, she joined the Leo Mar School of Dance in Belize City where she received her first professional dance lessons. Rosita had all the requirements to become a great dancer: stamina, determination and grace. Shortly after her enrollment in this school, she excelled in class and was told she had a successful dance future. Having tasted the exhilaration of performing before an audience, she made up her mind to further enhance her skills. Rosita went on to learn new techniques with prestigious companies such as the Jamaica National Dance Company, the Sarasota Ballet Arts School in Florida, USA, the Canterbury College of Theatrical Arts in London, England and the Folklore Dance Company of Mexico. Rosita learned a great deal from these schools and she brought this knowledge back to Belize. She also gained many skills studying under Cuban professor Edwardo Rivera.

In 1990, she joined the Belize National Dance Company, a company formed in the image of outsiders which has risen to one that stands tall and proud as uniquely Belizean. Rosita swiftly assumed the job as director of the junior company. She worked with children four to six years old teaching basic ballet and also taught ballet, modern and jazz to seven to fourteen year-olds. As a teacher, Rosita was strict with her students, but always at the end of the day she rewarded them with a warm smile and a gentle pat on the back. As a member of the Belize Dance Company, she performed her best and soon became one of the leading dancers, landing major roles in their productions. She has also conducted various teachers' dance workshops in San Ignacio and Belize City.

In 1998, Rosita was given the opportunity to become the dance instructor for the San Pedro Dance Company, a branch of the Belize National Dance Company. She accepted the offer with much enthusiasm and since then has made weekly visits to the island to train the over 80 students. Her contribution to the dance performances in San Pedro has definitely made a difference. Her extensive knowledge of jazz, punta, modern, ballet and folkloric dances is vividly portrayed by her talented students at many local and international events.

Rosita Baltazar has made a positive contribution to the development and preservation of cultural and artistic expression through structured dance training and promotion of the art of dance in San Pedro. Her expertise in the performing arts shows in the graceful and polished presentations of the dances in "Our Community."