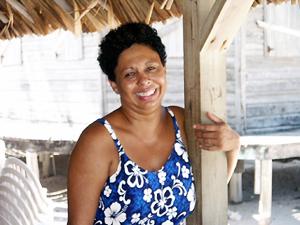 Charlene Woods-Johnston


Ambergris Caye is well known for its relaxed and friendly atmosphere; a reputation that draws more tourists to its shores every year. This week, The San Pedro Sun is proud to feature a San Pedro businesswoman who helps the island maintain its status, as a place where anyone, from any walk of life, can come to unwind - Ms. Charlene Woods-Johnston of BC's Bar and Grill.

Charlene was born on June 19

th, 1959, in Belize City to parents Edith and Charles Woods. She was the oldest child raised in a large loving family consisting of six sisters and one brother. At five years old, Charlene was enrolled at St. Catherine's Elementary School, and she completed her secondary education at St. Catherine's Academy.

Following graduation, at the age of 17, Charlene began her first on-the-job training as a receptionist in the Belize City office of the Miami-based Belize Airlines (BAL). Within six months, Charlene's people skills and personality gained her a position as a flight attendant with the company. For the next three years, she traveled to Cuba and to many other destinations around Central America and the Caribbean. When Charlene returned to Belize City she was hired as a receptionist for Bowen and Bowen, a Belize brewery and soft drink distributor.

In 1980, Charlene joined her friends in a steel band, and one of the band's performances led them to the small island of Ambergris Caye. Charlene was so impressed by this quaint little community that she decided to relocate. Needing to find a job first, Charlene contacted a friend who worked at one of the biggest hotels, Ambergris Lodge, and was informed of a job opening for an office clerk. Upon being accepted for the position, Charlene packed up everything she owned and happily made the fateful move to San Pedro.

After one year at the lodge, Charlene took advantage of a "better job opportunity" at Paradise Hotel. Earning a reputation as a good employee, a year later she accepted a position as assistant manager for San Pedro Foods, a subdivision of Bowen and Bowen. Charlene happily served the company for the next 10 years and although the work was enjoyable, she felt she "needed more." Her next career move, working as the purchasing agent for Rock's Shopping Center, still did not satisfy her energy and a year later, she left to become a dispatcher for Tropic Air. Although this was a more challenging position, Charlene met a young man at that time and fell in love. Her next step in life was a decision made from the heart; on August 31

st, 1994, she married Bruce Johnston, a "handsome" dive instructor/boat captain from Australia.

For the past five years, Charlene and her husband Bruce have operated BC's Bar and Grill, a laid-back, island-style beach bar. Known as the "Cheers" of San Pedro, locals and visitors alike enjoy visiting this cozy island "watering hole". Charlene says she feels like her customers "are coming over to my house for a drink; unfortunately, we have to charge them for their alcohol." Well known for her fabulous cooking, Charlene takes pride in serving some of the best barbecue in San Pedro every Sunday. She also keeps busy catering for weddings and other special occasions.

When Charlene is not working, she prefers to melt into the wonderful world of spa treatments, pampering herself with mud baths, massages, and facials. She also likes spending time with her husband, dining at different restaurants or taking an hour out of her very busy schedule to enjoy a snorkel trip. An animal lover, Charlene also extends her full support to Saga Humane Society, although she does not have much time to volunteer.

Her shining personality, friendly nature and love of people have provided Charlene Woods-Johnston a wealth of friends, and a business from entertaining them. This can be witnessed on a daily basis, at a little place "where everybody knows her name," in Our Community.