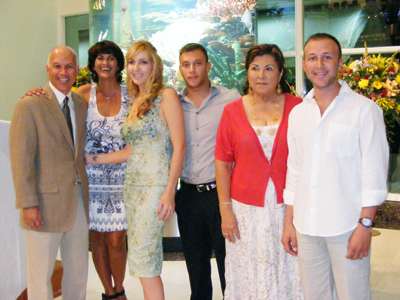 The Tropic Air family.




In grand style and fashion, Tropic Air inaugurated their new San Pedro Town terminal on Saturday night. The two story structure was built at a cost of approximately BZ$3.5 million. The milestone accomplishment for Tropic Air and its President, Johnny Grief III, was celebrated by invited guests and the many people who have contributed to the great success that Tropic has had throughout the years.

In a brief ceremony, Celi McCorkle related how the airline began. What started as a dream for Grief is one of the airlines of choice for Belizeans and visitors alike. With over 100 flights leaving the San Pedro Terminal, Grief explained that their priority was to enhance their fleet but improving their terminals countrywide was next in line. They began this endeavor with San Pedro Town, "We invested in making our fleet better and we are moving to enhance our terminal," explained Grief adding that, "we believe that our customers deserve the best."

The state of the art buildings boasts ample and comfortable waiting area, clean and spacious bathrooms, a better and improved bagging section and, the terminal's pride and joy, a floor to ceiling impressive aquarium.

Minister of Tourism and Civil Aviation and Culture Manuel Heredia congratulated Tropic Air on their grand event. Heredia said that the investment is a testimony of the private sections confidence in a government that is working to improve the country's economy. Amongst the guests were Prime Minister of Belize Dean Barrow and his wife Kim Simplis Barrow. In speaking to The Sun, Prime Minister Barrow stated that "I am impressed with such gorgeous and beautiful structure." He added that, "I am proud of the Grief family and Tropic Air and I want to congratulate them and continue to wish them the best."

After short speeches, Celi Jean Grief, sister of Johnny Grief III, proceeded to cut the ribbon that marked the official opening of the terminal. After the official ceremony, the invited guests celebrated the accomplishment with live music, food and drinks. Over 5,000 thousand passengers are transported through the San Pedro Tropic Air terminal daily to deferent destinations across Belize. According to Grief, they will be working on building a similar or perhaps larger terminal at the Belize City Municipal Airport. The building was designed by Anthony Thurton and constructed by Medina's Construction Company.