San Pedro Dance Company debuts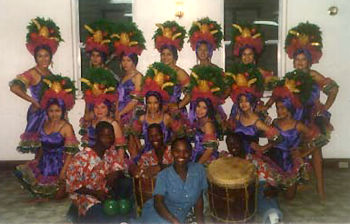 Rosita Baltazar and senior dance company members


Hundreds of people eagerly awaited the debut of the members of the San Pedro Dance Company on the night of Township celebration. The San Pedro Dance Company is San Pedro's newest dance group, born only a few weeks ago. A number of concerned citizens formed a small group headed by Mrs. Lily Nuñez. Their goal; to begin some recreational activities for girls. A dance class was the first thing that came to their minds. The group contacted one of the dancers of the National Dance Company, Rosita Baltazar. She was informed of their plan and was very receptive to the idea. Everything was slowly going into place. The San Pedro Town Board offered to sponsor Rosita's transportation to and from the city and

Maya Island Air offered a generous discount on her weekly fare. The San Pedro Dance Company committee was formed, comprised of Betty Ann Graniel as President, Lily Nuñez as Coordinator, Deny Eiley as Secretary, and Delcia Forman, Lisa Forman and Flor Bradley as Advisors. Ceci Lara would serve as trainee. Advertising the position produced an immediate positive response. The San Pedro Dance Company was ready to commence. Classes began on October 10

th, 1998 with a group of about 40 students. A fee of $5 was charged per person, per class.

Rosita Baltazar developed a liking for dancing at a young age and commenced her dancing career when she enrolled with the Leomar School of Dancein Belize City where she was introduced to ballet and folk dancing. She was then awarded a scholarship from Florida, U.S.A. to attend a Summer Workshop perfecting the art of dancing. Upon her return she went back to her respective dance group, but met with other participants of the seminar to practice and eventually became what today is The National Dance Company of Belize.

Rosita is a full time dancer. "This is where I get my bread and butter from," said Rosita. She has been working with children for the past eight years. As a full time dancer, Rosita teaches dancing to primary school children from around the country. Her dancing career has taken Rosita to perform in places like Mexico and recently a tour of Europe. She has also performed at other international festivals. Rosita choreographed the dance performed by the contestants of the Reina De La Costa Maya Pageant at the 1997 Costa Maya Festival. "As a result of this, I was asked to consider coming to San Pedro to work with the children here," explained Rosita. "I had always wanted to teach in San Pedro, but had never had the opportunity. This was perfect."

Rosita Baltazar accompanied by Mr. Greg Vernon, dance coordinator, of the National Dance Company of Belize came to San Pedro and gave a brief introduction pertaining to dancing. "The San Pedro Dance Company was adopted by the Belize Dance Company," Rosita added. Rosita travels to San Pedro once a week and offers dance sessions (one hour each.)

The San Pedro Dance Company is putting together a Christmas recital to be held at Central Park on December 23

rd, 1998. The show will feature all new choreography of the three groups. Rosita is very happy with the interest her students have shown towards dancing. She feels that the parents and the committee have shown a lot of support towards the group and that they have a good chance for expansion and travel. Rosita ended by saying, "Dancing demands a lot of discipline and that is what I want to instill in the children at a young age. The San Pedro dancers are very special. It gives me a great sense of satisfaction to see them perform."






San Pedro Dance Company debuts



Copyright San Pedro Sun. Design by Advantage Information Management