Rixy G Smith is Nuestra Belleza Gay 2016-2017
Thursday, December 1st, 2016
The third annual Nuestra Belleza Gay Pageant united the San Pedro's Lesbian, Bisexual, Gay and Transgender (LBGT) community and supporters on Saturday, November 26th. Held at the Angel Nuñez Auditorium, dozens of people came out to support the show organized by Zeilanni Natasha. While the crowd got comfortable, Nuestra Belleza 2015-2016 Byankka Bank's spiced up the opening show with a dance.
Nuestra Belleza Gay 2014-2015 Jennifer Baily Bowen served as the Master of Ceremonies, and introduced this year's four delegates: Kittana Welch, Gaylene Summers, Angeline Del la Rosa, and Rixy G Smith. The panel of judges included Alfonso Singh, Dina Graniel, Anny Cruz, and Mynor Tepaz, along with tabulators, Miguel Caliz and Aldair Tun.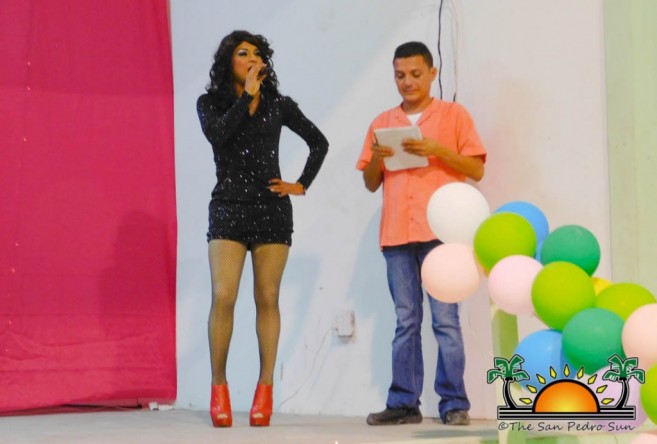 At 11PM, all four contestants opened the pageant with the grand costume segment, for which Rixy G took the sash. In the second category, the contestants showcased their carnival-inspired costumes, and Del la Rosa took the sash. From tennis to baseball, golf, and volleyball, they also presented their athletic skills through their attire in the third category, which Del la Rosa also won.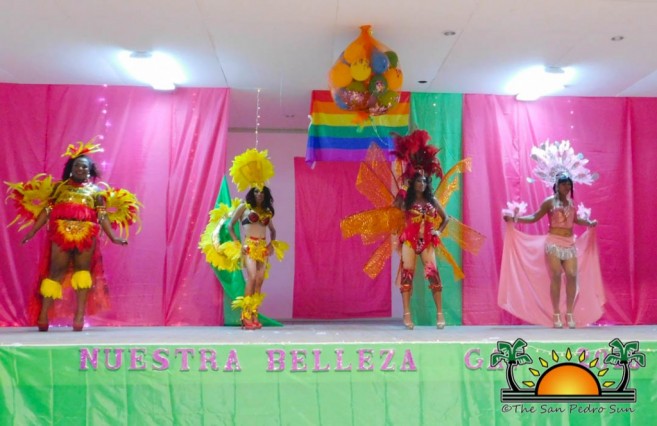 While DJ Lizbeth Gutierrez kept the beats and good vibes going during intermission, Bowen performed a dance and a song to keep the crowd entertained. The pageant then resumed with the highlight of the night: swimwear! To much applause from the audience, Rixy G swept that category in a one-piece ensemble adorned with accessories.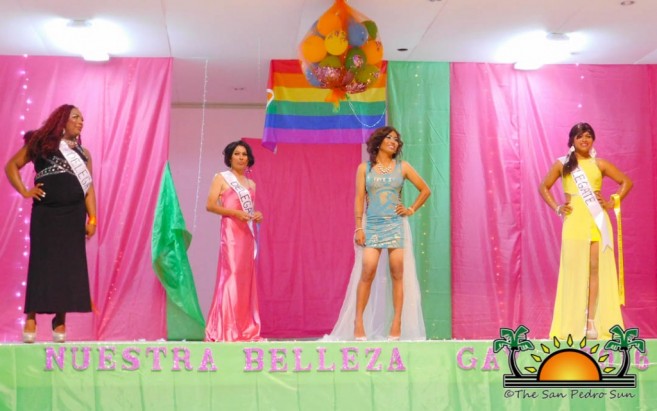 Once again Bank's took the stage during intermission, 'performing' to Beyoncé's "Listen" as the delegates prepared backstage for the biggest moment of the night, the evening wear category. As each delegate modeled before the dreaded Question and Answer segment. After much deliberation, the judges named Welch as second runner up and Del la Rosa as first runner up. Bank's crowned and sashed the new successor, Rixy G Smith! The audience certainly approved, as it cheered loudly in congratulations for Smith's victory.
According to Natasha, the show was a great success. "I prepared this pageant from the year before, and I have been pushy about getting all the sponsors I could to make this pageant successful. I'm thankful to all of my delegates who out on a great show. We had many surprises, but overall, it was fun and exciting," said Natasha.
Natasha gives special thanks to all of the sponsors who made this event possible: Caliente Restaurant, Travellers Liquors, Mayan Princess Hotel, Island Torch Bar and Grill, Sonya's Fashions, Tropic Air, Estel's Dine by the Sea, KayDan's Ceviche Stall, Juvinie's Sports Bar, Foreva Fancy, Wings, Just Relax Massage, Wil Rodriguez, Annie's Nails, the LGBT community in Caye Caulker, Spindrift Hotel, Magic Touch Massage, Brianna's Deli, Eduardo Chan, Zeida Alamilla, William Leon, Central Park Hotel, and the San Pedro Town Council. Congratulations to Rixy G Smith, Nuestra Belleza Gay 2016-2017!
Follow The San Pedro Sun News on Twitter, become a fan on Facebook. Stay updated via RSS