Brutalized crocodile euthanized after wandering into a residential home
Thursday, May 21st, 2015
American Crocodile Education Sanctuary (ACES) has been forced to put down a crocodile which was captured at a residence in Mosquito Coast. The crocodile had wandered into the yard of Casa Tortuga and was captured by local residents who then handed it over to ACES. The crocodile had two major injuries, mostly like caused by humans that had drastically reduced its health. Due to its condition, ACES had to humanely euthanize the animal as it would not have survived in the wild.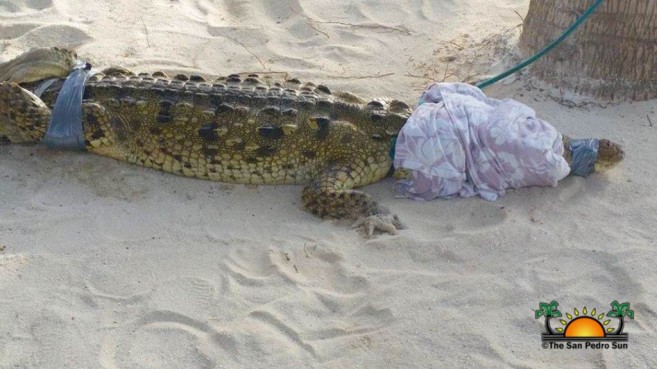 The crocodile was captured on Friday, May 15th by Jesus Galves, Luis Galves and Ismael Umaña. Guests at Casa Tortuga were surprised upon seeing the crocodile roaming in the yard and called for help. According to ACES crocodile behaviorist, Chris Summers, the capturers were lucky, as the animal posed little threat due to its condition. "It is not advised that anyone attempt to try capturing a crocodile without a specialist's help. It is very dangerous, as crocodiles are very powerful creatures that can easily harm someone. In regard to this capture, the crocodile was severely underweight, was blind in both eyes, and half of its tail was cut off. That's why it did not put up a fight. If it was a healthy crocodile, it would not have been captured so easily. While I applaud the persons involved in the incident for calling, they should have never attempted to capture the crocodile, but rather just made the report and let professionals safely handle the incident," said Summers.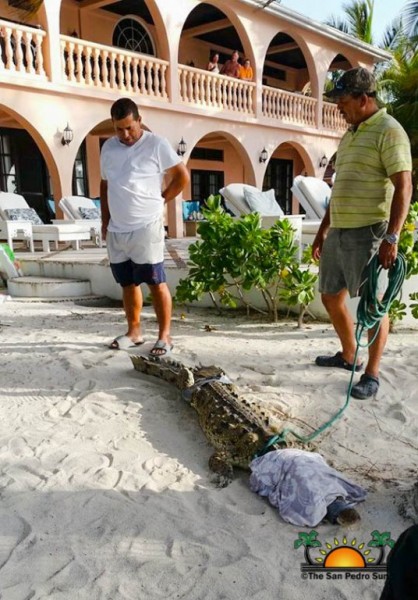 Summers explained that the crocodile was about seven feet long, even with a portion of its tail missing, an obvious sign of human violence. "This crocodile was a rather young male, having just reached sexually maturity within a year to four years prior. But it was in poor health. We noticed that both of its eyes had been shot out, probably with a Pellet gun, so it was completely blind. Half of its tail had been hacked off clean, mostly likely a machete injury. The injuries were fresh, probably not more than a month old. After receiving the injuries, this crocodile couldn't hunt or sustain itself, which explains its weight. Blinded, the crocodile probably just strayed into the yard not knowing where he was going," said Summers. "It is a very sad incident. The best thing to do for the poor guy was to put it down as it would have never survived in the wild in his condition."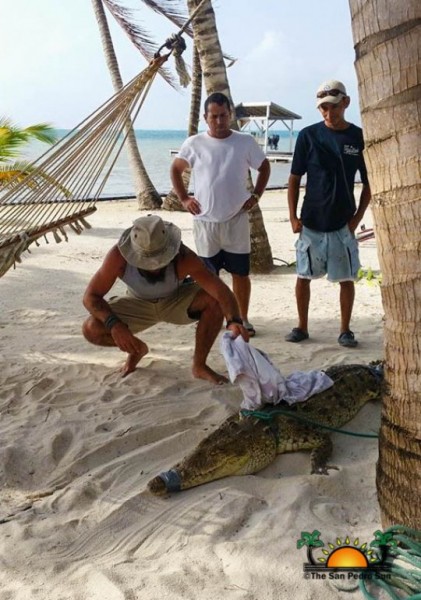 American crocodiles are a threatened species, with numbers quickly dwindling. They are found across Ambergris Caye, but often fall victim to human violence due to ignorance. While it is illegal to poach, kill, feed or possess an American crocodile, there is little enforcement to prevent incidents such as these from occurring. For years, ACES has been working on conserving the species, but community support is desperately needed. "Crocodiles are important aspects in our environment. We should be conserving them, not killing them. If at any time a crocodile threatens the community, then there is protocol to deal with the animal. They do not have to be killed, but can be moved to a new location where they can thrive," said Summers.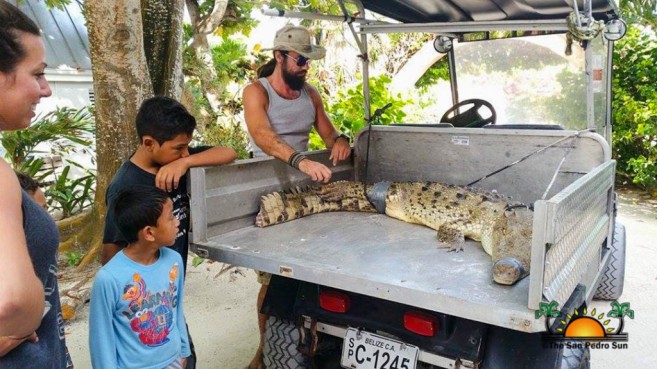 ACES urges anyone facing issues with a problematic crocodile to contact them instead of taking matters into their own hands. Permitted by the Belize Forest Department, ACES responds to distress calls 24 hours a day, any day of the week. In addition, it is of most importance for people to stay away from locations that crocodiles use as their habitat and not to feed them. It is against the Laws of Belize to poach American crocodiles for meat, teeth, skulls, skin, or to torture or even feed them. To report a problematic crocodile call 623-7920. For more information about ACES, please visit their website at www.americancrocodilesanctuary.org.
Follow The San Pedro Sun News on Twitter, become a fan on Facebook. Stay updated via RSS