Saga welcomes global humane partners to Belize; Bidding Owl returns
Saturday, November 19th, 2016
Over the past year, Saga Humane Society, along with representatives from Darwin Animal Doctors and Traveling Animal Doctors (TDAD), have kept in dialogue to create a partnership that would allow Saga, among other humane societies in Belize, to better address the issues of humane living. As TDAD arrived on Tuesday, November 15th, Saga shared exciting news for San Pedro Town that guarantees 24/7 animal veterinarian coverage during the week.
According to Saga, a contract has been drafted and signed, which would secure a two-year full time veterinarian and Humane Education Curriculum Coordinator. The contract commences on Sunday, January 1, 2017, and the approval of all licenses and permits are expected to be finalized by the Veterinary Surgeons Board of Belize before the end of 2016.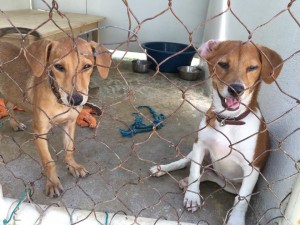 Saga and TDAD will focus efforts on Saga's core values of population control and humane education. The TDAD team is being sponsored by a long-time friend of Saga, honorary board member and board certified Belize, Veterinarian Dr. Orlando Baptist. Senior Veterinarian, Dr. Donald Tummons of Duck Hollow Animal Hospital has been installed to consult with Dr. Baptist regarding animal care practices, to further the mission to control animal population through Spay/Neuter campaigns, and to oversee International Veterinarian Services including travel teams.
As Saga's mission is to prevent cruelty and promote kindness, President and Founder of Saga, Eileen Jamison, believes that Saga should emphasize on teaching our youth how to care for animals. "In order to achieve this goal, we must work to control the overpopulation of cats and dogs, monitor the care of animals on the island and educate our future generations. We must teach our children and learn ourselves side by side with them, what humane living truly means," said Jamison.
In an effort to institute new practices, Jamison stated that Saga is looking forward to 2017, and is looking to fill in the gaps. She further explained that the past year and a half has been spent analyzing past practices, examining policies and record keeping. Jamison stated that volunteer work at Saga is at times overburdening, and has caused Saga to be sidetracked with their financial situation. "Admittedly, filings and compliance for 2015 has been delayed due to our commitment to putting only best practices forward. US IRS filing is complete as of the imposed deadline of November 15, 2016 and an audit is underway to satisfy compliance with the Belize Government regulatory bodies. The board of Directors has also been re-configured to safeguard the newly defined policies and accounting practices. We can now move forward towards what will be our best year ever," said Jamison.
Now that Saga is up to standards, they are hoping that with the help of TDAD, the stray animal population of Ambergris Caye will decrease significantly, and educational programs regarding proper animal care will be implemented.
Saga presents annual Bidding Bonanza
SHS is hosting their third annual online auction on 'Bidding Owl', where great prizes including vacation deals, fine dining certificates and adventure tours. All proceeds helps the Saga staff and volunteers save the lives of the homeless, sick and unwanted animals of Ambergris Caye.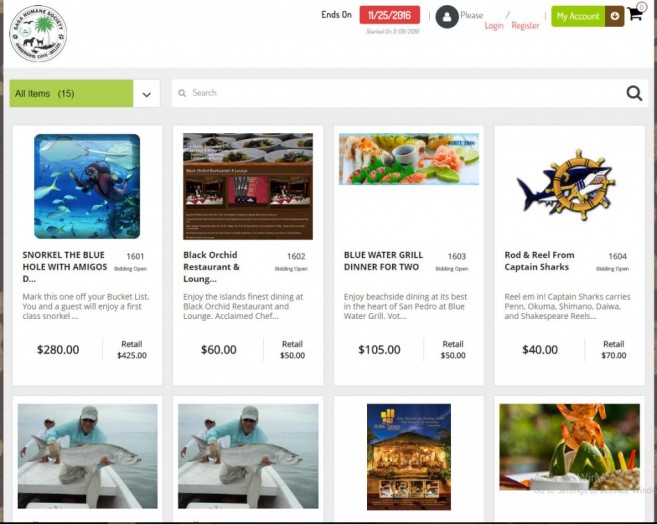 By visiting the website: http://www.biddingowl.com/Auction/home.cfm?auctionID=2593, you are able to bid on a great prize, and the highest bidder wins the package. The auction is open through Friday, November 25th, and Saga is hoping to generate $7,000BZ to support the shelter in full capacity.
The fine dining prizes include gift certificates at: Black Orchid Restaurant, Blue Water Grill, Hidden Treasure, Pineapples, and the Palmilla Restaurant at Victoria House. Adventure prizes include: a Suya Tours Lamanai jungle river adventure, snorkeling at the Blue Hole with Amigos Del Mar, two-days of flat fishing, and fishing equipment from Captain Sharks. Luxury accommodations include stays at: Ramon's Village Resort, Costa Blu Luxury Resort, Sunbreeze Hotel, Sunbreeze Suites, and the Palms Oceanfront Suites.
In addition, an adoption drive is scheduled for Saturday, November 26th, where the public is invited to come out and adopt Saga's sheltered animals. For more information on how you can help or make a donation, please call 226-3266, or visit may visit the Saga website at www.sagahumanesociety.org
Follow The San Pedro Sun News on Twitter, become a fan on Facebook. Stay updated via RSS