Saga Humane Society reviews successful year
Saturday, January 7th, 2017
The Saga Humane Society has wrapped up 2016, a year that brought memorable highlights and much success. With so much accomplished, Saga would like to review all events that played a key role in the past year's success.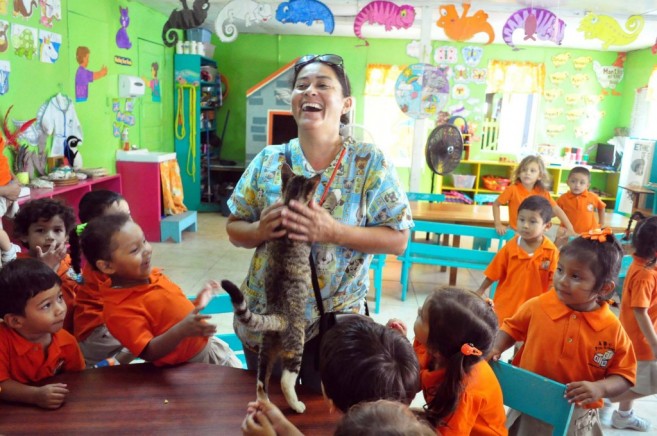 Leash/Tag/Licensing law for San Pedro
Saga is a huge advocate for the improvement of the general health and wellbeing of domestic and wild animals. The start of 2016 thus saw a new leash/collar, tag, and license law in San Pedro Town. Dogs must be restrained on private property by a fence, tether, or leash, in a humane manner. Dog owners are required to keep their dog on a leash and under immediate control any time the dog is taken off the property and in the public. By order of the Belize Dogs Act Chapter 153 Revised Edition 2000 and the San Pedro Town Dog Control Orders of 2012, all dogs six months and older must be licensed, leashed and have a proper and humane collar for identification. The annual license fee per dog is $5BZ, and can be obtained at the San Pedro Town Council.
Full-time veterinarian
For the first time in several years, Saga hosted Dr. Samantha English in January 2016 as a full-time veterinarian to provide veterinary care to the animals on the island. In an effort to create a more united and strong humane organization countrywide Saga hosted their first 'Belize Humane Symposium' in February 2016. Held at Coco Beach Resort, there were as many as 27 attendees, including Hopkins Belize Humane Society, Cayo Humane Society, and Belmopan Humane Society.
Humane Education
As part of Saga's public education programs, their Humane Education Team managed to visit each school on the island to spread their mission with their catchy slogan—"It's Cool to be Kind". The program is intended to teach children ways to prevent animal cruelty and promote kindness. The students were also taught responsibilities that every pet owner should have, what and what not to feed their pets, the importance of snipping (spaying/neutering), and were given animal facts. Some students at New Horizon Seventh Day Adventist Primary School were so inspired that they created their own Animal Kindness Club!
Veterinary Ventures Visits
In May 2016, Saga also hosted guest veterinarians, Veterinary Ventures, who conducted a Mobile Outreach for five days. Thanks to their team, over 200 animals were cared for and were provided free spay/neuter services in the DFC, San Mateo and San Pedrito areas. In June 2016, the SPTC, and Mayor Daniel Guerrero donated a red carry-all golf cart with a year of free licensing. Sine their vision is also to build a permanent animal clinic/education center in Ambergris Caye, Minister of Tourism and Civil Aviation and Area Rep Manuel Heredia Jr. donated two land parcels to Saga.
Fundraisers Galore
As a non-profit, non-governmental organization, Saga organizes the most creative fundraisers and many adoption fairs on La Isla Bonita. 2016 saw Saga's Night Fever at Casa Picaso, No Balls and Spayghetti at Stella's smile, Saga's Superbowl hosted by Sandbar, Lobsterfest 5K Run, Saga's annual Beach BBQ Bash hosted by Estel's Dine by the Beach, and several tasty cook-offs.
Officers Trained
As part of the San Pedro Animal Wellbeing Management Plan, two of the three groups of police officers stationed in Ambergris Caye attended a half-day training with Saga's Board of Director Dawn LoCascio. Police officers received sensitivity training that included safe animal handling, how to identify and secure aggressive dogs, and also reviewed the Belize Law Dog Act and Cruelty act.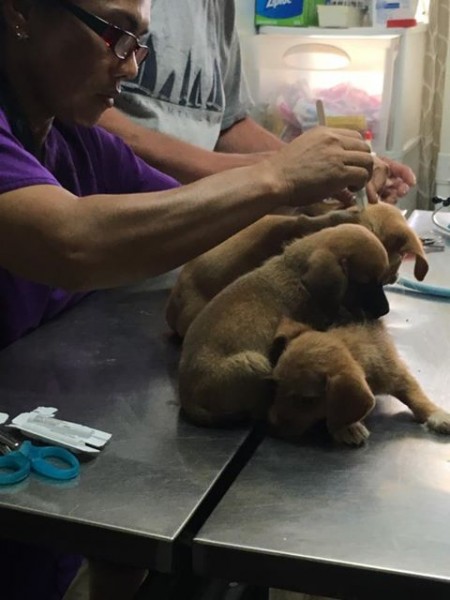 LoCascio is thrilled with the success of Saga's 2016. "Saga has accomplished so much in the past year, it is hard to say what the biggest gift was. We will continue to make a positive difference in the community, and continue working toward a long term solution to end animal abuse, neglect and overpopulation. Hopefully 2017 will another great year," said LaCascio.
Saga also provided their yearly statistics, which revealed that Saga treated 4,020 animals, and out of that number, 3,005 animals had owners. Saga also provided treatments at no cost to 1,503 animals. In addition, a total of 1,015 dogs and cats, stray, surrendered and non-owned were cared for by Saga free of charge. Many remained at Saga, Fort Dog, and the clinic or adopted.
The statistics also show that 271 owners surrendered their pets in 2016, and 146 animals were picked up by Saga's staff or community members. However, the good news is that 160 animals were adopted and 32 of those found their forever home within the United States and Canada.
With the help of Saga, the stray dog and cat population has decreased over the years due to their spay/neuter campaigns. In 2016, 372 animals without owners were spayed/neutered, while 459 animals that had owners were spayed/neutered.  Currently, there are 71 animals at Saga Humane Society looking for a permanent home. Out of the 71 animals, 40 are dogs (32 adults and eight puppies), and 31 are cats (20 adults and 11 kittens).
Saga was established in 1999 with a mission to replace animal cruelty with kindness. Their goals are to provide medical care and shelter to animals in need, as well as funding veterinary care to low income families. To learn more information on how you can adopt, or if you wish to donate to Saga Humane Society, you can call at 226-3266, or visit their website at www.sagahumanesociety.org.
Follow The San Pedro Sun News on Twitter, become a fan on Facebook. Stay updated via RSS