Palapa Bar hosts Saga's 14th Spooktacular Halloween party
Thursday, November 2nd, 2017
The Saga Humane Society (Saga) held its 14th annual Halloween Spooktacular party on Sunday, October 29th at Palapa Bar and Grill in San Pedro Town. Every year the Saga brings Halloween to the island's pet with dogs, cats and other creatures dressed up in costumes, some accompanied by their humans. There were a lot of giveaways, great food, drinks and music from 11am through 4pm, and attendees had a great time and supporting a worthy cause.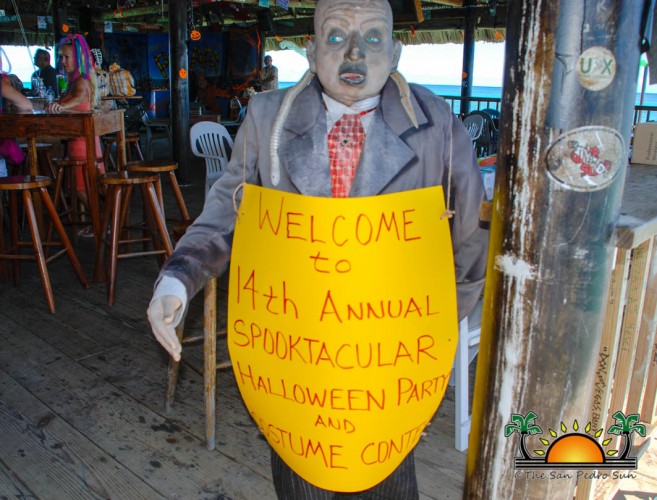 As patrons enjoyed Palapa's spread, pets mingled around as well. From Hotdogs, Melting Hershey's chocolate, Angel's, Cowboys, Scuba, Wonder Woman, Vampires, to a "Cereal Killer", the outfits were pawsitively adorable! Pet owners had a chance to participate in raffles, silent auctions, and even face painting, all leading up to the main highlight: the pet costume competition.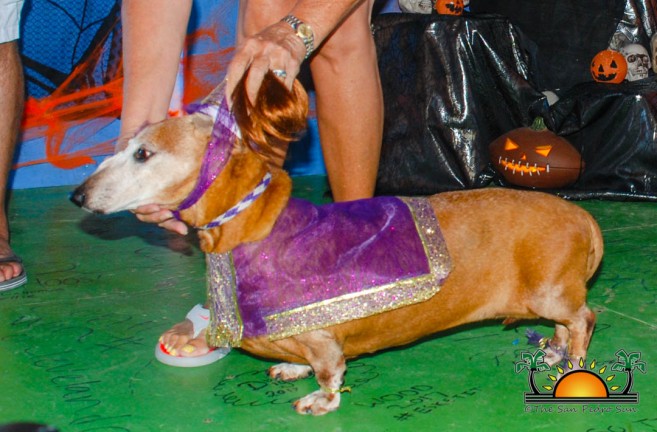 One by one, pets parade up to the stage before five judges, tasked to choose the winners. They were Mary Gonzalez, Madison Edwards, Eiden Salazar, Kristin Marin and Terry Beck. It was a hard task deciding, but the decisions were made, and the winners were finally announced. "Most original" was the Scuba Dog team, which included Burnie, Sasha, Tommy, Johnson and Jersey. In "The Scariest" category the winner was Bella who was dressed as a dark angel, in "The funniest" category the winner was Barca, a glorious 75lbs English bulldog dressed as wonder woman. The "Look-Alike" winners were Gitmo and Tesla, who were both dressed as cowboys, and in the "Best-Trick" category, Johnson and slim won. All funds raised went to Saga Humane Society for their future projects on Ambergris Caye. Saga Director Katia Marin is grateful for the success. "I want to thank everyone who came out and supported this worthy Cause," she said.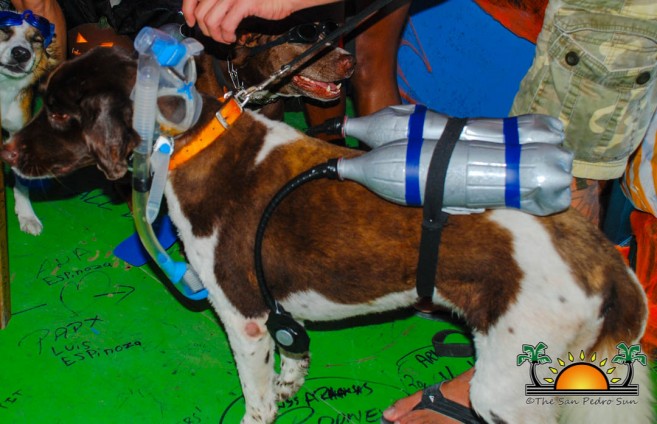 Sponsors for the event were , Premium Wines, Belize Food Tours, Stella's Smile, Black Orchid, Traveller's Liquors, Caramba Restaurant, Ultimate Golf Cart, Castillo's Hardware, Wahoos Lounge, 12 Belize, PamPer Paws, Hungry Grouper, Island Buzz Café, Waruguma, Wayo's, Beer Net Café, Sandbar, Roadkill Bar, Seaduced By Belize, Belizean Breezes, Graniel's Dreamland, Estel's Dine by the Sea, Polo's Golf Cart Rental, Caliente, Belize Fitness, The Coffee Bar, Foreva Fancy, Belize Chocolate Company, Ellos, Mambo Chill, Mata Chica, Nook Restaurant & Bartique, Gloss Beauty Center, Leslie's Salon, Coleen Creeden, Bella Mia, Annie's Pastries, Casa Pan Dulce Bakery, Go Fish, Hidden Treasures, A&R, Coleman's Barbershop, D&E Ice-cream, Lizzy's Smoothie, Candle Garden, Fido's Courtyard & Pier, Pink Boutique, Sandy Toes, Pepperoni's Pizza, Planet Pizza, Lola's Pub, El Divino, Costa Blu, ACES Crocodile Adventure, Ambergris Divers, Bermuda Palm, Blue Water Grill, Captain Shark's, Chilas Cabin, Daydreamin' Bed & Breakfast, Scuba School Belize, Searious Adventures, Sol Spa, Spindrift Resort Hotel, Sun Breeze Hotel & Suites, Tracy Ginger Cuture , Tuff E Nuff, Tula Ayuso, Amigos Del Mar, Victoria House Resort, Wild Mango's, Thai Spa, Belize Caye Investment, Mata Rocks, Nellie Gomez, San Pedro Town Council, Seaside Real Estate, Grill Chuck &Robbie's, Ashely Boutique, Tans Mart, Alpha y Omega, Michele Fruit Shop, Rock's, Paradise Market, The Greenhouse, Ritchie's Store, Annie's, Caye Mart, Mermaid's, Marina's, La Divina Providencia, Angelica's Store, Cindy's Store, and Maria's Fruit Shop.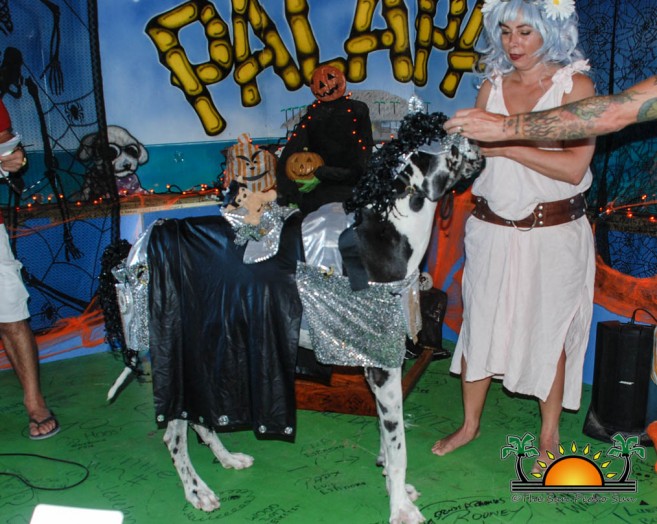 Also the volunteers, M.C and organizers, Katia Marin, Dennis Craft, Eric Vladimir, Ingrid Lima, Dawn LoCascio, Mary Maykuth, Selina Malko, Selena Beck, Rhonda Brown, Jack Burnett, Krista Mohr, Kevin Fleche, Jackie Bescherer, Jack Burnette, Denis Hensen, Iris Hensen, Iliana Paj, Eileen Jamison, Regina Gonzalez, Alicia Rodriguez, Ciara Duran, Faride Lima, Kristin Newton, Raquel Manteufel, Lisa Cyrier, Ronnie Cyrier, Scott and Jodie Harnish.
The Saga Humane Society thanks everyone who came out to support the event and made it another successful one. Special thanks go out to Palapa Bar & Grill and their staff for hosting them, as well as to organizers, volunteers, judges and sponsors who made this event possible. To learn more of their work and how you can become a volunteer you can visit www.sagahumanesociety.org or call 226-3266.
Follow The San Pedro Sun News on Twitter, become a fan on Facebook. Stay updated via RSS