ACES relocates large problematic crocodile to mainland sanctuary
Sunday, February 25th, 2018
Submitted by Christina Manzi
ACES Marketing, Event, and Fundraising Coordinator
An old 10.5-foot American crocodile named Julio was transported to Sandhill on the mainland of Belize on Wednesday, February 14th, where his beautiful and lush pen in the sanctuary at Rainforest Adventure Zone awaited his arrival. American Crocodile Education Sanctuary (ACES) has given this crocodile many chances over the years, but unfortunately, even after interventions, he continued to express worrisome and problematic behavior, leading ACES to make the decision to remove him from the wild for the safety of the community, as well as for his own safety.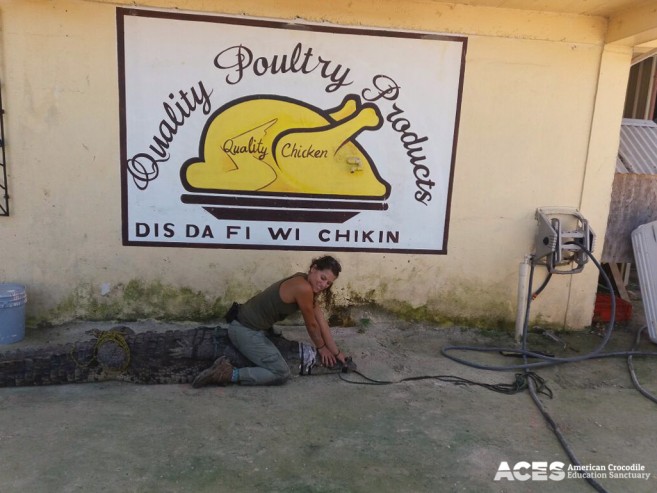 Julio was being held temporarily in ACES emergency holding pen on Ambergris Caye while the construction of his pen, funded by ACES main benefactor La Foundation Brigitte Bardot, was completed. Once finished, the croc and ACES team began the big move to the mainland. The day began early Wednesday by capturing Julio safely and humanely to prepare him for a full day of travel. ACES team roped, wrangled, and secured the feisty croc, then, with the help of some lucky people passing by, lifted all 10.5 feet of him out of the pen and onto a golf cart. From there he was transported to Quality Poultry Products and loaded into the hull of their boat. The 'chicken boat' comes to the island full products and goes back to the mainland empty. Quality Poultry Products has been kind enough to offer their boat as means of transportation for crocodiles for ACES many times over the years and was happy to assist in Julio's big move.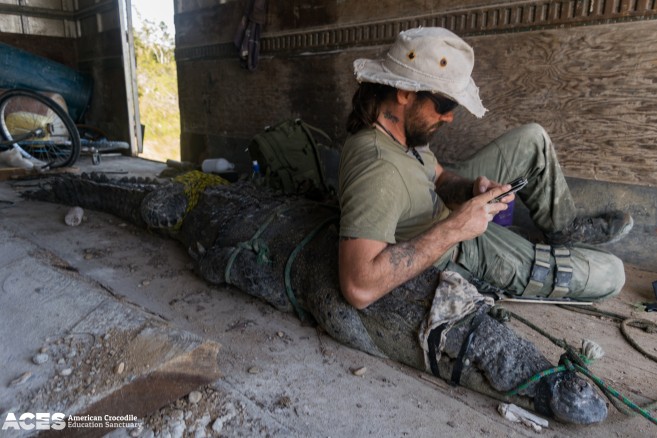 After nearly two hours on the water, Julio arrived in Belize City where staff from Quality Poultry helped ACES unload Julio from the chicken boat, then load him into the back of a moving truck.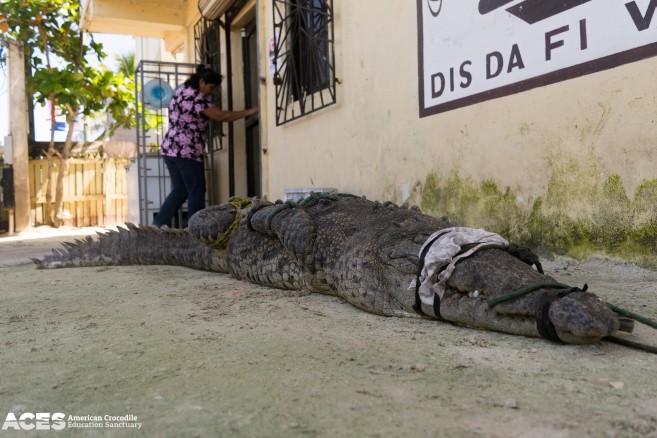 After a bumpy 45-minute ride to Sandhill, Julio was finally on the last leg of his long journey. The exhausted croc was transferred to a tractor-trailer which brought him, at last, to his gorgeous pen. He was unloaded for the final time, placed on the green grass that grew along the bank of the water, and the ropes were removed. You could almost see the joy on his face as he became aware of the crocodile paradise that was his new home. This sanctuary is a place where this old croc can live out his days in peace, basking in the sun, eating chicken, fish, and any other animal unlucky enough to slip into his pen. Having been through many battles in his violent crocodile life – approximately one foot of his tail had been torn off, the majority of his two hind feet are missing and he sustained an in injury at some point that blinded him in one eye – ACES is certain that Julio's retirement in the sanctuary will be a comfortable one.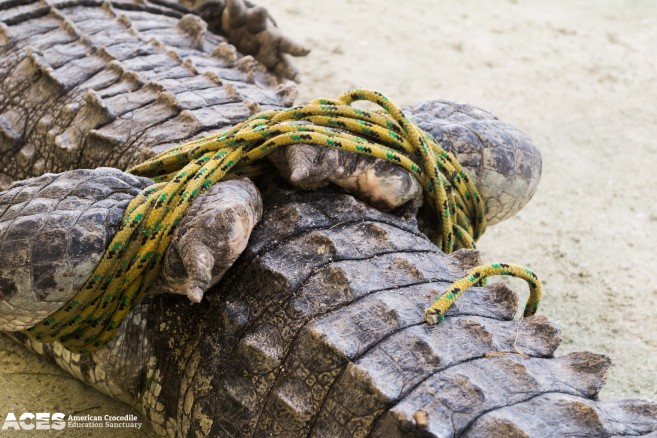 "To all our supporters, our donors, everyone who lent a hand in the initial capture, who helped lift him over fences, in and out of boats, into trucks and tractor trailers, we say THANK YOU. You made a world of difference to this crocodile's life. You saved his life.", commented Chris Summers, ACES Operation Manager, and Croc Wrangler.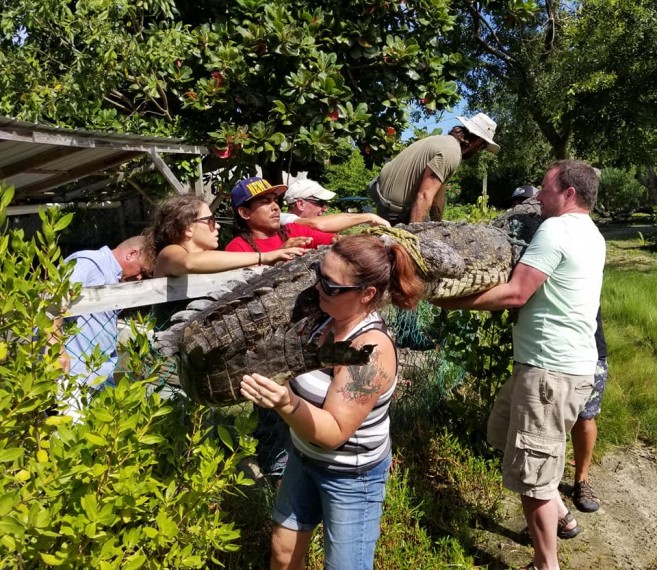 ACES is a non-profit organization permitted by the Belize Forest Department, operating within a Memorandum of Understanding under the Ministry of Forestry, Fisheries, and Sustainable Development for the proper management, rehabilitation, conservation, and protection of crocodilians species in Belize. ACES provide problematic crocs whose only other option is euthanasia a second chance at life by building lush, beautiful pens for them to live out their days. Julio's pen, located at Rainforest Adventure Zone, was erected thanks to funding provided by La Fondation Brigitte Bardot, who has supported ACES in their mission to protect and conserve crocodiles and their habitats in Belize since 2012. If you have any questions or concerns about crocodiles in your area, please feel free to contact the Belize Forest Department at 828-4936 or ACES at 623-7920 and [email protected].
Follow The San Pedro Sun News on Twitter, become a fan on Facebook. Stay updated via RSS