Crocodile poaching incidents increase on Ambergris Caye
Friday, November 8th, 2019
The poaching of crocodiles continues to increase on Ambergris Caye according to the American Crocodile Education Sanctuary (ACES). On Thursday, November 7th via their Facebook page, ACES shared that two island crocodiles have been targeted by poachers within 24 hours of each other. One was able to be saved thanks to reports from vigilant residents. However, they were unable to rescue the other.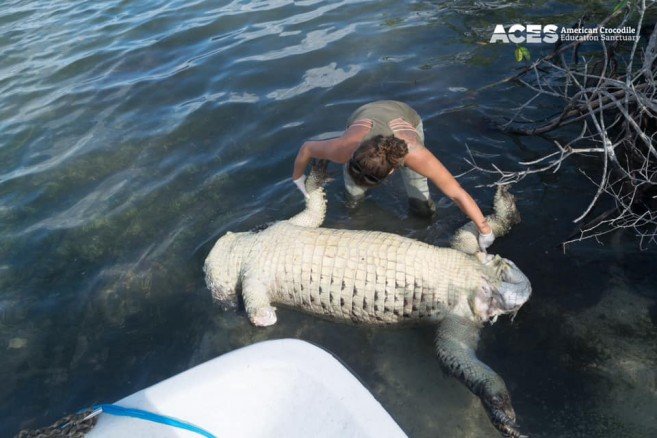 ACES managed to save the crocodile named 'Fluffy' from an illegal trap. A resident of the area told ACES that she saw a man wading through the water, and when she asked him what he was doing, he admitted that he was trying to capture a crocodile. She addressed him of the illegality of this offense, after which he left. He came back and set the trap in which Fluffy got stuck. ACES assumes that the perpetrator was waiting until nightfall to handle Fluffy, since scenarios with crocodile captures would draw quite a crowd during the daytime. Fluffy is the largest female ACES has caught in recent years, and one of the few sexually mature females caught on the island within the last 18 months.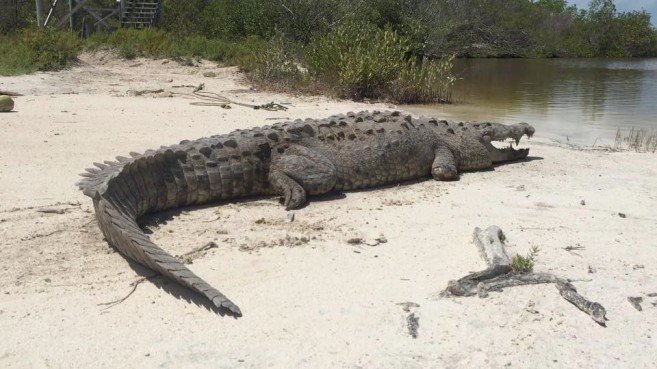 Unfortunately there was not much that could have been done to save the other crocodile named 'Charlie.' According to ACES, they received a report about a dead crocodile floating in the mangroves of the Hol Chan Marine Reserve protected waters on the back side of the island. When they arrived at the area they found the poached body of one of the largest male American crocodiles on Ambergris Caye, known as the three-legged Charlie. The crocodile was Identifiable by the missing front right foot, and the missing digit on his left hand foot (both documented during previous health inspections), the recently deceased body of Charlie was missing his head and tail which had been macheted off.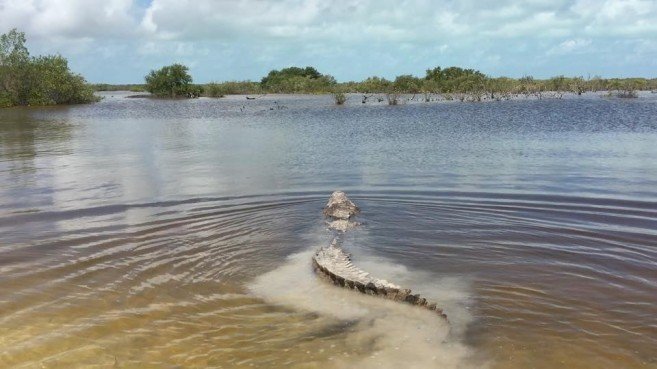 ACES shared that Charlie was known to residents around Ambergris Lake and San Pablo Area as he enjoyed late night or early morning strolls from the lake to the lagoon, something he's probably done for many years. He never bothered anyone, or targeted people or even pets. His only crime and the only reason he's so well known to them is because once in a while he'd get lost, stuck in a yard, or lost down a dead end road while trying to find his way during his routine patrols, in which case they always responded immediately to help remedy the situation. "He was the definition of a gentle giant, and the loss of such an old and magnificent creature is a huge blow to the ever dwindling population of the threatened American crocodiles on Ambergris Caye. Between major habitat destruction, poaching and pollution, I fear my generation will only be able to tell our grandkids about the amazing wildlife we used to see, but see no more. They will wonder why we didn't do more to protect paradise and its inhabitants while we still could," shared ACES.
Crocodiles are cold blooded and have a body temperature similar to the surrounding air, land or water. Since they lack a reptilian thermostat, they seek a habitat with warm water and air temperature all year round. Crocodiles play an important role in wetland environments. They help keep the balance in the complex web of life in freshwater and estuarine ecosystems. They are key predators at the top of the food chain and eat a wide range of prey. They are also prey, when smaller, to other animals such as feral pigs, iguanas, turtles, sea eagles and even other crocodiles. Being predator and prey, the crocodile plays an important role in keeping a wetland ecosystem healthy and when a wetland habitat is healthy, the fishery is considered to be healthy too.
EVERYONE is reminded that it is illegal to feed, harass, or attempt to catch a crocodile. These crimes are punishable with a fine of up to $10,000, and possible jail time. Residents are further advised to remove any tangled and broken fishing gear, so situations like this do not occur and to protect wild animals. If a crocodile in your area is causing concern, you can call ACES here on Ambergris Caye at 623-7920 or reach out to the Belize Forest Department at 822-1524. Keep in mind that only those permitted and trained in humane trapping and handling methods should come in contact with crocodiles. Apart from being illegal, catching a crocodile can be a dangerous and fatal act. To keep up with information about crocodiles and the work ACES is doing on Ambergris Caye, you can visit them on Facebook at American Crocodile Sanctuary Education (ACES).
Follow The San Pedro Sun News on Twitter, become a fan on Facebook. Stay updated via RSS