HCMR and Ramon's Dive Shop guides assist turtle in distress
Wednesday, November 13th, 2019
On Friday, November 8th Hol Chan Marine Reserve (HCMR) was able to save a distressed sea turtle found south of San Pedro Town near Ramon's Village Resort Dive Shop. According to HCMR, the turtle had air accumulated in its intestines. The air was removed with the assistance of HCMR, and the turtle was released into the water.

HCMR Marine Biologist Kirah Forman-Castillo shared with The San Pedro Sun that it is a common affliction among turtles to build up the air inside them that can cause difficulty breathing and swimming. Therefore, it has to be removed using a syringe. "The turtle was seen in distress, so the guides from Ramon's contacted us and brought the turtle to their dive shop, where we assisted by removing the air accumulated in its intestines, and we showed the guides how to do it. It's common among turtles. However, we don't really know what are the causes as we do not have a laboratory here to do x-rays and the necessary lab work," she said.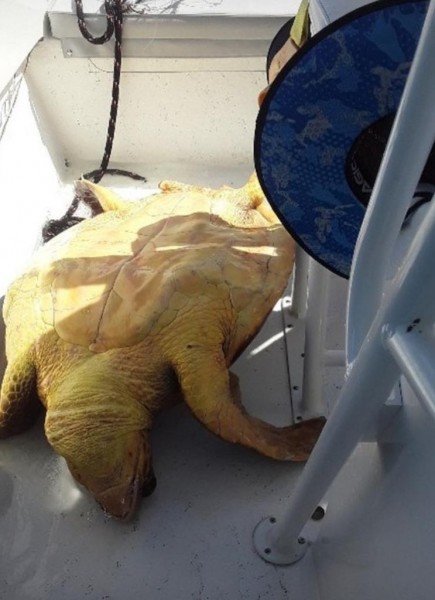 Floating turtles found are commonly victims of trauma due to boat collisions or fishing gear entanglement. They are unable to submerge, and so are easily captured or float ashore. If, by chance, you encounter a turtle or any marine species in distress, please contact HCMR for assistance by calling 226-2247.
Follow The San Pedro Sun News on Twitter, become a fan on Facebook. Stay updated via RSS