Eli Lopez wanted for impersonating a medical doctor
Thursday, September 27th, 2012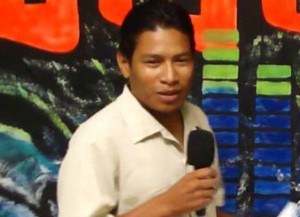 San Pedro Police are looking for a man who pretended to be a doctor and was volunteering at the Doctor Otto Rodriguez San Pedro Poly Clinic II. The imposter has been identified as 31 year old Eli Lopez who had a San Pedro address but is originally from Santa Familia Village in the Cayo District. Apparently Lopez has since left the island. The investigation against Lopez originated from at least two reports made to San Pedro police alleging that Lopez was impersonating a medical doctor and had treated at least two separate individuals while on the island.
According to San Pedro police, Dr. Laurenzco Nicholson visited the station and told police that on July 27th, he visited the station to treat a person who had been detained. While with Dr. Nicholson, the detainee kept making reference to one "Doctor Eli Lopez," and said that he had previously been treated by such person. The detainee was taken to the clinic along with Dr. Nicholson where they saw Lopez who the detainee identified as the doctor who had treated him. According to police, Lopez told Dr. Nicholson that he knew Dr. Javier Zuniga, who is also attached to the clinic.
Dr. Nicholson told police that on September 13th, when he reported to work, he saw Lopez dressed in full scrubs (clinic outfit) taking vital signs (blood pressure) and immediately informed Dr. Zuniga that Lopez was the same person some local residents claimed to be a medical doctor. Other information received indicated that Lopez was also signing documents for people who were applying for driver's licenses, pretending to be a doctor. Closer observation made into Lopez indicated that he was also reporting erroneous readings of patients' vital signs. Police said that in a meeting with the management of the Poly Clinic on August 31st, the issue of Lopez was discussed and clarified that he was just a volunteer and was only allowed to conduct vital sign readings.
Information received further alleges that Lopez had also treated a female minor along with her little brother who were both given wrong medication. Police explained that on September 7th, a female visited the clinic requesting to see the said "Dr. Lopez" who the patient claimed to be the Medical Coordinator at the clinic. The female patient was informed that there was no such Dr. Lopez and was advised to make a statement to the San Pedro police against Lopez.
How was Lopez allowed to volunteer at the clinic in the first place? According to the Administrator of the clinic, Owen Vellos, Lopez had approached them asking to volunteer his service. "We told him we were going to call him but we never did," said Vellos adding that, "the next time we heard of him was on August 13th when he showed up." According to Vellos, Nurse Lisel Cayetano was asked to hold an interview with Lopez which is customary in order to evaluate him and see how he could best be used. Following the interview Lopez was assigned to doing vital sign readings only. Vellos confirmed that Lopez volunteered at the clinic from August 13th to the 31st following a meeting where the claims by various island residents regarding him pretending to be a doctor were discussed.
According to San Pedro police, they are looking for Lopez as part of their investigation and to verify if he posseses any documentation as a medical practitioner. It is believed that Lopez got word that he would be investigated and absconded from off the island. Anyone with information to the whereabouts of Lopez are asked to call the nearest police station at 911 or crime stoppers at 0-800-922-TIPS.
Follow The San Pedro Sun News on Twitter, become a fan on Facebook. Stay updated via RSS